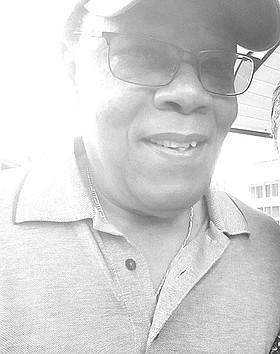 Cecil "Cec" Augustine Bosfield
unknown - unknown
Home Going Celebrations for Mr. Cecil Augustine "Cec" Bosfield age 73years of #22 Elgin Lane, Freeport Grand Bahama and formerly of Nassau, Bahamas will be held on Saturday, October 5, 2019 at 10:00a.m at Mary Star of the Sea Catholic Church, East Sunrise Highway, Freeport Grand Bahama. Officiating will be Fr. David Cooper and Deacon Nixon Lindor. Interment will follow at Grand Bahama Memorial Park.
He is survived by his: sons: Kyle and Antonio Bosfield; daughters: Deborah (George) Kelly, Maneica (Marcus) Pratt, Talia (Tito) Williams and Khalia Bosfield; grandsons: George Kelly, Marcus Pratt Jr., Khalid, Kaylin Jaylen, Jovon and Travis Bosfield; granddaughters: Geneva Hanna, Lateisha Pratt, Tania, Taylor and Tori Williams and Tanisha Hardiman; stepmother: Louise Bosfield; mother-in-law: Joanna Thompson; brothers: Mark Anthony "Kiah" Bosfield (Sharon), Clement Bosfield, Cyril "Boxer" Minnis (Louise), The Most Honorable Dr. Hubert Minnis (Patricia), Bradley (Darnell) and Philip Bosfield (Charlene; sisters: Albertha Hall, Patricia Clarke (Autrey) Albertha Adderley, Cheryl Minnis, Karen Leadon (Richard) and Ellen Major; brothers-in-law: Austin (Elva), Alexander, Andrew (Melbourne) Thompson; sisters-in-law: Ruth (Leon) Harris, Dorothy (Gary) Grant, Patrice and Esterlee Thompson and Charmain (Freazel) Cooper; nephews: Dr. Dana Hall (Lesa), Anwar Hall, Dominique Hall (Renae), Dr. Antoine Clarke, Mark, Jamal, Jovan (Martina), Gwain (Natasha) Bosfield, Quaid Robinson, Terrance Clarke (Tomeka), Alexander, Tremaine, Dr. Runako, Dr. Jamil, Cyril Jr. and Cameron Minnis, Deron Adderley, Keeno Major and Omar Russell; nieces: Deborah, Ann Marie, Darlecia, Nyiah and Myrez Bosfield, Dr. Tonya Hall Alia (Emmanuel), Allison Woodside (Etwood), Dawn Clarke, Phenyala Minnis, Charette Nixon, Sydlesia Major, Laurentia Moss; godchild: Shenika Taylor and a host of other relatives and friends too numerous to mention.
Viewing will be held in the "Royal Suite" at Westside Memorial Mortuary, Hanna Hill Eight Mile Rock on Friday, October 4, 2019 from 12:00p.m to 6:00p.m and on Saturday, October 5, 2019 at the church from 8:30a.m until service time.