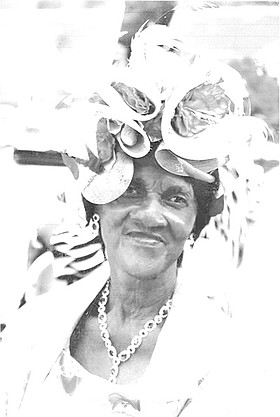 Agnes "Aunt Maggie" Mary Mather
unknown - unknown
Funeral Service for Agnes Mary Mather age 70 affectionately called "Aunt Maggie" a resident of Queen Street Harbour Island Bahamas, who died at The Princess Margaret Hospital Saturday September 28th, will be held 11:00 a.m. Saturday October 12th, 2019 at Wesley Methodist Church Dunmore Street Harbour Island Bahamas. Rev. Jacinta Neilly assisted by Rev. Henry A. Knowles will officiate and interment will follow in St. Catherine's Cemetery Harbour Island Bahamas. .
Precious memories are held by:
Her daughter: Azzara Davis
Adopted daughter: Monalisa Davis
Grand-children: Livingston, Sabrina, Cassidy, Octavia and Azzarion
Sisters: Patricia Fisher, Jennifer Cleare and Francine McQueen
Nieces and nephews: Terry, Dennis, Freddie, Sheila, Vivreen, Alice, Seth, Tanor, Valley, Glendina, Faye, Harrison, Lester, Jeff, Dermico, Warren, Andrew, Druscilla, Ivy, Stanlika, Edsol, Lydia, Nadine, Desarie, Cheryl, Jethlyn, Carolyn, Mechach and Byron
Sisters-in-law: Chloe Mather and Juanita Mather
Numerous grand nieces, nephews: Fred Clan, Terry Clan, Rose(decease) Clan, Sheila Clan, Vivreen Clan, Alica Clanm Seth Clan, Eva(deceaded)Clan, Glendina, Clan Faye, Clan, Mechacn Clan, Cheryl Clan, Warren Clan, Andrew Clan, Ivy Clan, Stanlika Clan, Nadine Clan, Edsol Clan, Lydia Clan, Desiree Clan, Carolyn Clan, Druscilla Clan, Harrison Clan, Jeff Clan, Dennis Clan, Dernico Clan and Jettthlyn Clan
Cousins: Georginia, Romell and siblings,
God-children: Anton, Lacey, Gaynell, Tonya, Carla, Bresha, Denchina, Tinka, Lotres and Messiah
Friends include: Rev. A. Knowles and Family, Ena Sawyer, Patrice Barry, Melly Davis, Barbara Woods, Jane, Junna Mae, Judy, Annie Mae, Tessie, Lizzy, Adrianna, Cecily, Sweetly, Cathy, Elaine and Family, Ben and Melinda Bethel, Erma Davis, Neil, Sheta, Ron Davis, Cindy Mackey and Family, The Roberts Family, The Johnsons Family, The Cleare family, The Davis Family, The Ross Family, The Sawyer Family, The Higgs Family, The Saunders Family, The Major Family The Percentie Family, Harbour Island Health Care Family and the community of Harbour Island. Bahamas.
Relatives and friends may pay their last respects at THE CHAPEL OF MEMORIES THE NEW COMMONWEALTH FUNERAL HOME INDEPENDENCE DRIVE Thursday from 2:00-6:30 p.m. Friday from 10:00-a.m.-12:00 noon and at the church in Harbour Island Friday from 8:30 p.m. to service time on Saturday.