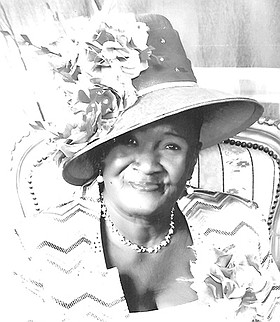 Blanche Forbes
unknown - unknown
Ms. Blanche Forbes age 77 yrs
Will be held on Thursday October 10th 2019 7:30pm at International Revival Fellowship Ministries, Montel Heights, Nassau, Bahamas.
Final Rites and Burial for the late Mrs. Blanch Eva Forbes Age 77 yrs, a resident of Kemps Bay South Andros, will be held on Saturday October 12th 2019, 10:00 am. at Mt Zion Native Baptist Church, Kemp's Bay South Andros, Officiating will be Dr. Marion Forbes, assisted by Bishop Dr. Earl Randy Fraser, Interment Kemp's Bay Public Cemetery.
Her beautiful life will forever be cherished in the hearts of her children: Retired Prison Officer Sgt. Raymond Forbes (Carmen), Mary Barr(Samuel deceased), Patrice Ash (Rudolph), John (Vernell), Leo (Julieann Andrews), Mark (Shenice Bain) & Basil Forbes. Adopted son: Cleveland Goddard; Grandchildren: Rayvonne (Terrence) Smith, Alexio (Audre Yanna) and Lamont Ash, Samantha and Samara Barr, Raymond (Sharunda), Renaldo, Johnette, Jonell, Mark Jr., Tamarco, Tristen, Marcus, Leah, Tayshawn, Leonardo, Ratajnae and Antonique Forbes and Tayvaughn Seymour; Great grandchildren: Amarie, Aiden, Shiloh and Jon'nya Forbes, Simayah Meadows, Trenae Fowler, Tayvia Taylor and Hailey Ash; God children: Bernadette Delancy, Cleo Anderson & Martha Forbes; Brothers: Deacon David (Sarah) Miller, Rueben (Karo) Forbes, Minister John (Vyvyenne) Forbes, Bishop Randy (Jacqueline) Fraser, Bruce (Beryl) Miller, Prince (Leona) Miller, Jack Miller & Maxwell (Joyce) Miller; Sisters: Erma Johnson, Orean Saunders (Charles ), Collete Forbes, Rosalene Clarke, Florena Rolle, Joylene (John) Stubbs, Vernita & Janet Miller; 54 Neices & Nephews including Alfred Wilson & Charles Archer and Cheryl Brown; A host of other relatives and friends including: The Barrs',The Fowler's, The Damianos, Mr. Albert Miller, Entire staff of the Miriam Greene Clinic, Dell Sandilands & family, Lee Meadows & family, Laura Barr & family, Vanrea Simmons & family, Good will Baptist Family, Eula Nixon & family, Julita Johnson & family, Alton Rolle & family, South Andros High School, Mr. Norwood Rahming & family, Rosemary Ritchie & family, Entire staff of Senior Citizen Home, members of the Kemp's Bay Seventh Day Adventist Church, New Macedonia Seventh Day Church, Mt Zion Baptist Family, Deacon Holbert & family, Pastor Edna Rolle & church family, Mrs. Cecelia Moncur & family, Pastor Arlene Smith, Livingston & Beverly Smith, Mt. Olive Baptist Church family, Pastor Leo & Rodnell Forbes & church family, Pastor James Pratt & church family, Pastor Stanley Forbes & church family, Pastor Anthon & Cathy Austin, Grace & Charlie Sweeting, South Andros Christian Council, Ms Jennie Neely & family, Bonnie Forbes, Crew of the Captian Moxey, Pastor Fairdale Smith & church family, Mr Mitchel Underwood, Mr Richard Roberts, Mr. Lee Sweeting, Mr Wayne Bethel, Entire Pigeon Crew- Spanish Well & Abaco,Entire South Andros Community, Sylvia Rolle & family, Bishop Simeon Hall & family, Robert Bullard, Catherine Roker, Thera Forbes, Brittany Johnson & family, Kristal Josey & family, Darnell Rolle & family, Magalie Pierre & family, Wellington Forbes & family, Sidney Gomez & family, Bishop Michael Ferguson & church family,Henry Forbes and Family, Minister Carnetta Poitier & family, Betty Major & family, Staff and management of Lightbourne Trading Company, Dr. Larry Carroll & family, Bahamas Department of Corrections, Donna Humes & family, Ethrel Forbes & family, Flordell Pratt, Floriemae, Philip & George Forbes, Eulamae Rahming, Karen Jones, Dianne Mortimer & family, Leroy Forbes, Nesline Rolle & family, Priscilla Dean, Eric Rolle & family, Hazel Andrews, Lollymae McPhee & family, Carliee, Les & James (Joanna) Brown, Tyrone Burrows, The Boys, Sherel Curtis, Vernita King, Miriam Gaitor, Dennis & Sherise Forbes, Donna Barr, Pamela Munroe, Endalyn Clarke, Dr. Marion Forbes and Family, Ricardo Forbes and Family, Jennie (Ben) and Family, The Butler Family, The Archer Family, Sweeting Colonial Mortuary. To anyone we've missed we sincerely apologize
The body will repose at the Chapel of the Saints Sweeting's Colonial Mortuary and Crematorium, #84 Blue Hill Rd. from 10.00 am on Friday until 1:00pm and on Saturday at the church from 9:00 am until service time.