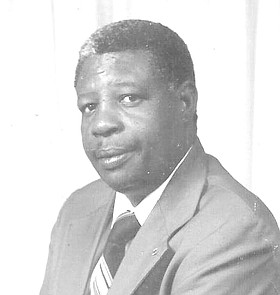 Bernard William Lunday
unknown - unknown
Funeral Service for Bernard William Lunday age 78, of Imperial Park, Sea Breeze will be held on Friday, September 6th, 2019 at 12:00 noon at St. Joseph's Roman Catholic Church, Boyd Road. Officiating will be Monsignor Alfred Culmer assisted by Deacon Pater Jones. Interment will follow in the Church's Cemetery.
Left to mourn his passing and cherish his memories are: his loving and devoted wife: Olive Ethel Lundy; Sister: Andrea Wood and Valaria Walkes; Brother-in-law: Benjamin Walkes; Sister-in-laws: Mrs. Dorothy McKenzie, Mrs. Karon Charles, Mrs. Paula Munroe; Nieces: Sharlene (Edmond) Johnson, Tracey Wood, Erika (Willard) Barr, Sherry (Dr. Shawn) Thurston, Marilyn Roomatar, Lorraine (Chris) Reckley, Melony (Osmond) Munnings, Monique McKenzie and Agatha Munroe, Kimberly (Michael) Bovenizer, Teri Walkes, Lisa Wood, and Brenda Capron; Grand-nieces: Jasmine, Jonece, Tranae, D'Andra, Daria Adrianna Wood, Nicolette, Alana, Oneca, Ky and Ellen Lundy, Tanique Capron, Tamara (George) Donaldson, Theodora (Charles) Fernander, Casia Allen, Danielle and Brittany McKenzie, Tyria (Freddie) Smith, Nina Johnson, Regina Dickerson; Nephews: Dwayne (Christine), Fernando (Eyiessiear) and Marcello Sr. (Christine) Lundy, Joseph (Clarice), Ephraim (Felicia), Adrain (Cynthia), Terrance (Antoinette), Kent and Kevin Wood, Benjamin Walkes Jr. Leslie and Adrian (Suzzie) McKenzie, Randolph Jr. (Sherilyn) Munroe, Michael and Mitchell (Madge) Munroe, Kevin, Delano Munroe; Grand-nephews: Edmond Jr., Ashton Johnson, Travis Travon, Anthony, Kent Jr., and Kevaughn Wood, Fernando Jr, Christopher, John, Marchello Jr., Majaro and Marako Lundy, Troy (Mary Lou) Capron, Travis Capron, Shawn and Jordan (Rondera) Thurston, Donovan McKenzie, and Teddy Johnson; Cousins: Adam and Maxine Munroe, Gerald and Anne Johnson, and Sylvia Peterson & Family a host of other relatives and friends including: the neighbors of Buttonwood Drive & Buttonwood Lane, Imperial Park; the family & friends of Detroit Michigan; the family of Bain Town; the family of Polhamus Street; the Sands family; the Johnson family; the Lundy family; the Cooper family; the McPhee family; the Martin Family; the doctors & nurses of Princess Margaret Hospital; the St. Joseph Church family including Father Culmer, Father Gomes & Deacon Peter Jones; and all who prayed for Mr. Lundy and many others too numerous to mention.
The body will repose in the Blessed Redeemer Chapel at Ferguson's Funeral Directors, 7th Terrace Collins Avenue TODAY from 10:00 am - 5: 00 p.m. and at the church on Friday from 11:00 a.m. until service time.