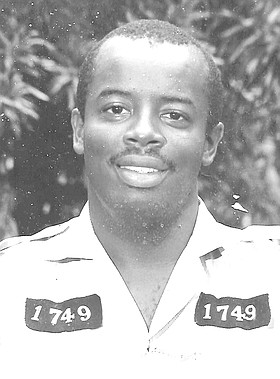 Warren John Bethell
unknown - unknown
Funeral Service for the late Warren John Bethell, aged 53 years, of Lakeshore Road, Big Pond, will be held on Friday September 6th 2019 at 11:00 a.m. at St. Gregory's Anglican Church, Carmichael Road. Officiating will be Canon S. Sebastian Campbell assisted by other ministers of the Clergy. Interment will follow in Lakeview Memorial Gardens, John F. Kennedy Drive.
Left to cherish his fond memories are his Mother: Norma Newton; Father: John "Dee" (Ruth) Bethell; Children: Lachelle Bethell, Lashawn (Clement) Rolle, Warren, and Italia Bethell; Sisters: Suzette Butterfield, Shelease (Derek) Valentine of Atlanta, GA and Letitia (Donald) White of Atlanta, GA; Brothers: John Jr. (Dedra) and Sgt. 173 Lawrence (Lori) Bethell; Brother in Law: Elias Sandi; Uncles: George (Donnell) Wilson, Robert Bethell Sr, Patrick Bethell and Richard Thurston; Aunts: Cynthia Rahming, Joyanne (Leroy) Johnson, Deborah Bethell, and Linda (Anthony) Adderley; Niece: Candice Butterfield; Nephews: Silistino and Darius (Kristi) Butterfield; Grandnieces: Bethany Brown, Celeskeya, Silistina and Daria Butterfield; God Children: Brian Miller Jr, Brinique Miller; Cousins:, Bradley, Mario (Vanessa), Willard Jr. Stubbs, Robert (Delores), Ryan (Laverne) Egan, Duran Bethell, James Jr. (Regina), Jason (Danielle), Jeremy Rahming, Daren, Phillip Bethell Jr., Anthony Adderley Jr., Nathanria (Antonio) Williams, Audra Bethell, Judith Rahming, Jillian (George) Pinder, Simone (Paul) Longley, Kristy Johnson, Lakeisha (Insworth) Wilson, Kaliah Sutherland, Cicely (Jared) Whyms, Debbie (Wendel) Carey, Velda (Perry) Clarke, Gail, Dorcas, and Mercia (Kirkwood) Deal, Faith and Natasha (Washington) Gordon, Shameka (Omar) Wedderburn, Paul Thurston; Other Relatives and Friends: Jaden, Daniel and Ian Wilson, Lindop, Sydney and Gladstone (Daisy) Moon, Arnold McPhee, Juanita & Albert Armbrister, Donald & Susan Demeritte, Herbert Marshall, Denise & Quincy Cockburn, Norma Cooper, Ivy McDonald, Beverly & Linda McDonald, Eziekel & Dell Adderley, Martha McPhee, Mary Knowles, Carriemae Adderley, Zelmae Curtis, Maybre and Family Catherine Storr, Delerease & Racquel Sully, Dr. Toya Storr, Robert Bowe, Cecil Bowe, Jeffrey Rolle, Keith (Deborah) Rolle, Alonzo (Ruth) Rolle, Derek Rolle, Dwight Burrows, Sophia Archer, Joey Knowles and Family, Yvette Robinson and Family, Dr. James McCartney and Family, Alice Rolle, Pam Bullard and Family, Brian Miller and Family, Douglas and Cpl Geneva Bridgewater, Judith (Francisco ) Cooper and Family, Cindy (Anthony) Curtis, Marilyn Major & Family, Leantha, Mavis Johnson and Family, Pinky Hannah, Claire Shim, Larear Adderley, Laron Stuart, Laron Stuart Jr., Dwight Burrows, Una Elliot, Monique Wallace-Jones, Dale Rahming and Family, The Bowe Family, Darron Bowe, Richard Rolle and Family, Jasmine Strachan and Family, Myrtle Deleveaux, Sophie Archer and Family, Calvese and Family, Beverley Sears and Family, Linda Watson and Family, Mrs. Nicollas Zervos and Family, Basil Bethell, Dellarese Worrel, The Stuart Family, The Ferguson Family, Rickey Trotman, The Sturrup Family, Terry Rodgers and Family, The family of the late Theophilus Gibson, Rev. Dr. James Rahming, Sgt. 746 Ginhins Gibson, The Royal Bahamas Police Force, , Lloyds Bank Family, The entire Big Pond Community, The Riley Family, Mary Scott and Family, Ms. Burrows and the nursing team.A special thanks to Father Toppin and members of St. James Anglican Church. Thanks to the Staff and Doctors of Doctors Hospital.
Friends may pay their last respects at The Paul Farquarson Center, Police Headquarters, East Street North on Thursday from 10:00 a.m. to 5:00 p.m. and at the church on Friday from 10:00 a.m. until service time.