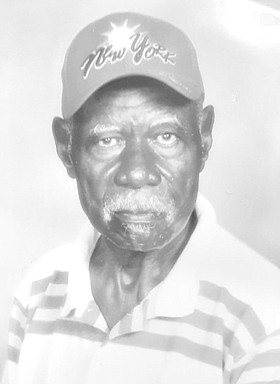 Bernard Rolle Sr.
unknown - unknown
CELEBRATION SERVICE
Celebration Service for the life of Mr. Bernard Rolle Sr. Age 84 years of New Bight, Cat Island and formerly of Third Street, Coconut Grove will be held on Saturday September 14th, 2019 at 11:00am at St. John's Native Baptist Cathedral, Meeting Street. Officiating will be Rev. Dr. Carrington Pinder, Pastor Vernis Storr assisted by other ministers of the gospel. Interment will follow in St. Mark's Cemetery, Romer Street Foxhill.
Bernard life long Partner Naomi Gaitor predeceased him, as did two of his Children, Cassandra and Stephen Rolle.
Left to celebrate his Life are: Four (4) sons Bernard Jr, Eric (Belita), Nathan, & James Four (4) Daughters, Deloris, Denise Manning (Eric), Lizerene Dames & Althamese Rahming (Charles) Grand children's Rochelle Johnson, Alfred & Samantha Woodside, Brittaney Williams (Sean), ALSHA Aranha Price ( Darren), Adrian Clarke, Kylon, seven,, Vonnisha, & Bernae Rolle, Syretta Dames, Aneka & Shamane Sweeting, Chankeno & Charlkesha Rahming, Wingo Musgrove & Laranda Chamber(Kevin). Seven Brothers, Eric, James, Carl (Yvonne), Jeremiah (Vangy), Kenneth (Antoinette), Gregory (Donna) & Osborne Johnson Eight (8) Sisters Rebecca (Ralph), Louise (Nathan), Edris, Van era (Van rick), Valda, Evan, Denise, (Ricardo). Great Great Grand children. Pedreito Meejas jr, Derron & Darren Brown, Lizandera Lightbourne, Jordan
& Skye Price, Shaneka Sweeting, Samuel Woodside, Antonio & Laqana Sweeting, Athalia Lazauh Curry & Gamaliel Gray,& Lamont Parker & RJ. Hepburn. Nieces & Nephews Brett, Lynn Smith & Family, Anisha, Kenya Rolle & Family, Terry, Urn, Clint, Drevor Rolle & Family, Christine, Patricia, Michelle, Lyndyn, Ricky Johnson & Family, Nathlye, Nathisha Meadows & Family, Carlette, Carl Jr, Krystel, Cheryse Rolle & Family, Family & Friends A host of other relatives & Friends including, Pastor Venice & Rehny Storr, Pompey Johnson, Nat Dorsett, Gracie, Neka, Jeannie, & Sadie Dorsett, Nurse Saunders, Petral Lightbourne, & Family, Ethel Gaitor & Family, Ivy Brown & Family, Norman Wells & Family, Ivy Rolle & Family, Shavonne Cooper & Yvonne, Eckron (Julia), Rev. Garnet Rolle, Sis Margaret Curry, Slyvia Wilson, Jackie Cox, Wendy Lightbourne, Debora Longley (Paul), Joy Nichols (Radclifft). The Mt Sinai Baptist Church members, The Douds Cat Island Family, St John Native Baptist Church Family, the Farringdon Road Family.
Relatives and Friends may pay their last respect at FOR THE BEST Serenity Funeral Home and Crematorium #153 Baillou Hill Road( directly opposite B.E.C ) on Friday from 12:00noon to 5:00pm and at the church on Saturday from 9:30am until service time.
"Where the NAME is SERVICE and your LOVED ONE OURS."