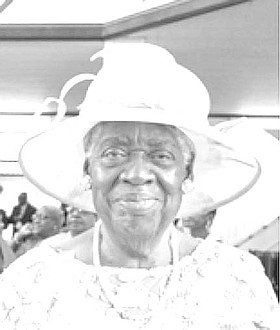 Matriarch Ethelyn Brown-Williams
unknown - unknown
Funeral Service for Matriarch Ethelyn Brown-Williams, 83 years of #18 St. Vincent Avenue, Elizabeth Estates and formerly of Pirates Way, Mayaguana, who died peacefully at her residence on Saturday, 24th August, 2019, will be held at Zion Yamacraw Baptist Church, Yamacraw Road on Saturday, 14th September, 2019 at 11:00 a.m. Rev. Dr. Glendon Rolle assisted by other Associate Ministers will officiate. Interment will follow in Lakeview Memorial Gardens, John F. Kennedy Drive and Gladstone Road.
Her legacy lives on through her Sons (4): Alexander Williams, Dec. Perry Williams (Dec. Christina), Haymish Moxey (Sandra) and Clarence Moxey; Daughters (5): Elder Bronell Williams-Humes (Elder Anthony), Elva Williams, Veranique Moxey-Brooks (Rev'd Tyrone), Lashelle Moxey and Katrina Moxey; Sister (1): Sybil McKinney; Grandchildren (23): Shonell Butler (Kevin), Desiree Riley (Edison), Alexandria Ferguson (Phalmon), Opara Williams, Rev'd Tonia Colebrook (Rev. Dr. Robert), Trevis and Stacyie Demeritte, Nickya Munroe (Shawn), Shanna and Crystal Demeritte, Antonio Humes, Anishka Smith, Sasha Rolle-Chea (Martin), Valentino (Tiffany), Ryan (Rachel), and Kedron Williams, Antoinne & Georgia Robinson, Ravelle Curry, Tyesha , Anthonique and Tyrone Brooks Jr., Karina Glinton and Carla Bain (Rev. Ken); Caregiver: Neosha Dean; Great-Grandchildren (20): Delvano Bonaby, Edisa Riley, Bobbeth, Torianne and Lerond Colebrook, Sion Munroe, Peyton Brown, Dauntae Cayard, Carson Storr Jr., Santino and Tyler Miller, Taylor Demeritte, Carter Bain, Kavaughn , Kayden & Kayson Butler, Alexavia Smith, Phadron Ferguson, Kenneisha & Carlyn Bain and Gianni Fernander; Nieces & Nephews: Garth Duncombe, Ceceil, Paulette, Ricardo , Mario, Gregg, Anne, Christine, Hilda, Beatrice, Bishop Silbert, Dolly, Mary, Julia, Betram Jr., Beatrice Berthlyn, Rosalee Joycelyn, Anita (Soley); Best Friend: Barbara Marshall; Cousins: Millicent Pratt and Natalie Miller; Grand-Nieces & Nephews: Dwayne, Trevor, Michelle, Daphne, Lashan, Eunice, Avard, Wilbur, Rodney, Rodina, Dea, Rochelle Marilyn, Enid, Humphrey, Natasha, Ian, Melinda, Antoine, Tanya, Shavano, Sheno, Rothia, Ventroy, Ineka, Jamaal, Lawanda, Philip Denise, Philize, Deon, Lanese, Ramon, Brenton Major, Thia, Coyo, Travis & Gardinia, Nevardo, AJ, Shataz, Shaquell and Shantae; Cherished Family & Friends: Muriel Charlton-Duvalier, Donna, Anthony (Ervine), Ricardo and Kevin (Melvern) Moxey, Mother Shirley Greene & Dec. Rose Rolle Sis. Francina Rolle, Dec. Jessie Saunders, Dec. Susan Roberts & Family, Rev'd Glendon Rolle, Rev'd Howard & Patricia Smith, Anita McKenzie & Family, Doralyn Tinker & Family, Emily Gardiner & Family, Mr. Freddy Wallace Sr. & Family, Henry Shivers & Family, Nurse Gleana Percentie & Staff of Elizabeth Estates Clinic, Rosco Monica Johnson, Olive Hanna, Shirlene Murphy, Milson Newbold, Kim, Andrew, Roscoe, Carolyn, Turah, Sandra, Sugar & Marco, Gaynell, Terry, Eric & Sandra, Pete Wright, Carnish Darville, Mimose Cartwright, Patrice Deveaux & Family & Family, The Rt. Hon. Perry G. Christie, Melanie Griffin, Zion Yamacraw Baptist Church Family, The New St. Paul Baptist Church Family, Metropolitan Baptist Church Family, Pastor Ken & Lisa Loring of Ft. Lauderdale, Fl., Russell & Suzanne Kirby, Patricia Johnson & Family, Haram Kelly, First Caribbean Int'l Bank, Bahamas Protected Areas, Fund Fusion Superplex, Gone Fishin', Virginia Miller, The Court Reporting Unit, Yorick Evans & Family, Johnniemae, Lee, & Thelma Thurston, Edgecombe Family, Mrs. Rolle, Josey and Monalisa & Family, Larry Collie & Family, Lorca Bowe, Bernadette Rolle, Lashan Butler, Shavanda Sturrup, Dale Thompson, Brenda Solomon, Carolyn Forbes & Family, Mrs. Arlene Ching, Mrs. Yuk Lai Chea, The staff of Princess Margaret Hospital, Dr. Omala Ablack, Dr. King-Strachan, Staff of Infinity Restaurant and Liquor Stores, Pastor Berkley Pilgrim, Veda King & Family, & Family, Mrs. Williams & Family, Bethsheba Williams-Clarke, Jeremy Williams & Family, Valderene Gardiner & Family, Derick, Jeffery & Preston Rahming, Martha Moncur & Edgecombe Family, Emily Cox & Family, Ken & Maria Glinton & Family, Sudia Munroe, and the Nassau Beach Howard Johnson Family.
Relatives and friends may pay their respects at Grace Funeral Home, #36 Rosetta Street on Friday from 10:00 a.m. to 6:00 p.m. and on Saturday at the church from 10:00 a.m. until service time.