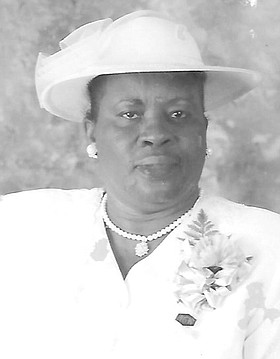 Ruby Lightfoot
unknown - unknown
Funeral Service for Mrs. Ruby Lightfoot, age 78 years, of #48 Central Drive East, Coral Harbour and Mutton Fish Drive, Golden Gates and formerly of Williams Town, Exuma, will be held at 10:00 a.m., on Saturday September 14th, 2019, at Christ the King Anglican Church, Ridgeland Park, west. Officiating will be The Venerable G. Kingsley Knowles, assisted by Rev'd Fr. Collin Humes. Interment will follow in Woodlawn Garden, Soldier Road.
Ruby was predeceased by her daughter Jacqueline Lightfoot.
She is survived by her Husband: Anvil Lightfoot; daughter: Vienna Grant Mckenzie; Grand Children: Takisa Bethell, Apostle Demarco Grant, Kendrick (Maria) Grant Sr. and Brandon Mckenzie; Great Grand Children: Kendrick Grant Jr, Kenria, Makeena, and Makeylin Grant, Bradesha Charlton and Tajah Forbes; Siblings: Lionel (Gloria) Dorsett, Alice (Philip) Nicolls, Wesley (Thomasina) Dorsett, Lester Sr. (Min. Cheryl) Dorsett, Beverley (Allan) Miller, Wilbert (Linda) Dorsett, Vivian (Judy) Bowe; Sisters in Laws: Adline Virgil, Stephanie Saunders and Clemintina Storr; Nieces and Nephews: Giovanni Nicolls, Viviar, Carmelio (Tamica), Yolanda and Nerissa Dorsett, Deidre (Willard) Seymour, Tamaler (Berry) Sweeting, Anwar (Precole), Evordney, Rajiva and Britney Dorsett, Indira (Evertanz) Muniz, Shekinah Wright, Golda (Benbela) Muslaire, Leslie, Ryan, Lester Jr. (Nadia), Lashaun Dorsett, Lechea (Rony) Charles, Shavonnne, Rolle, Camille, Rochelle, Denvar, Donnamae, Kittyann and Deandra Miller, Wilkeisha, Renardo, Tristan and Willaia Dorsett, Jacque, Jeffery, Stevonia, Navir and Rohane' Mckenzie; A Host of other Family and Friends Including: Ruth Smith and family, E.J. Bowe and family, Ronnie, Diana Lightbourne and family, Maud Smith and family, Justice Cheryl Grant Thompson and family, Dwight Grant and Family, Eulamae Mckenzie and family, Barbara Dorsett and family, Patricia Dorsett and family. Ruth Hanna and Family, The Bullard, Styles, Major, Sears, Bowe, Virgil, Storr, Dorsett, Nesbitt, Gray, families, Carmetta Romer, Theresa Black. The entire Williams Town Community, Margaret Styles and Family, Bishop John Ingraham and Elder Patrice Ingraham and family. Elder Manerva Gray, The family of the late Sarah Forbes, Rebecca Tucker, Gina English, Josephine Bastian Gloria, he family of Horace and Alfred Bullard, the Rollins , Grant Family, Patsy Storr and Leroy Storr and family, Jeffrey Bethel and Family, Geneva Moree. Jeffrey Bethell and family, The Contributions Department of the National Insurance Board. The staff of the Coastline Community Nursing Home and Marsha McQueen and family, ACW, Officers and members of Christ the King church Ridgeland Park, the member and officers of South side Christian Ministries International, and a host of other relatives and friends too numerous to mention.
Relatives and friends may pay their respects at Cedar Crest Funeral Home and Crematorium Ltd, Robinson and Baillou Hill Roads, on Friday from 12:00 noon to 6:00 p.m., and at the Church on Saturday, from 9:00 a.m. until service time.