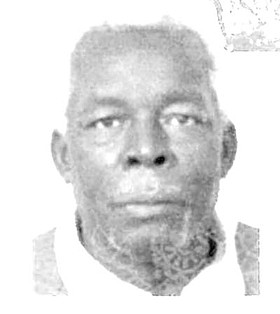 ORTLAND "Lover" KENNETH WELLS
unknown - unknown
Funeral service for MR. ORTLAND KENNETH "Lover" WELLS, age 71 years of Malcolm Road, and formerly of Old Bight Cat Island, will be held on Saturday, September 21st, 2019 at 11:00 a.m. at Cooper's Terrace Cathedral Church of God, Cooper's Terrace. Officiating will be Bishop Robert McPhee, assisted by Other Ministers of the Gospel. Interment will follow in Woodlawn Gardens Cemetery, Soldier Road and Woodlawn Way.
Memories will forever linger in the heart of his Wife: Almeda Rosetta Wells; Daughters: Cindy Moss, Michelle Wells and Linda Armbrister; Sons: Sgt. 2564 Durward Wells and Capt. Trevor Wells; Grand children: Alfred, Teran, Shaquille and Malik Moss, Danika, Theon, Dayshawn and Durward Wells Jr., Dontay Plummer, Crystal Armbrister and Durie Jones; Mother: Lucile Armbrister; Sisters: Beautlyn Woodside, Eldrica Butler, Joann Zonicle and Fredrica Gibson; Brothers: Lionel Rolle, Hubert and Garyen Wells; Mother-in-law: Francis Deveaux; Daughters-in-law: Angie and Anastacia Wells; Sons-in-law: Alfred Moss and Terry Armbrister.
Other Relatives and friends including: Mr. Philip Brave Davis, Leader of The Opposition PLP Party, Gregory Nixon, Clement Cartwright, Rev. Philip Bethel, Leslie Miller, Wade Forbes, Wellington Brown, Tim Johnson, Junior Smith, Raymond Meadows and the staff of Flamingo Air, The Community of Palmetto Point, Eleuthera, The Community of Old Bight Cat Island and The Cooper's Terrace Cathedral Church of God Family.
Viewing will be held at Clarke's Funeral Home & Crematorium, East West Highway on Friday, September 20th from 11:00am to 5:00pm, and at the church from 10:00am until service time.