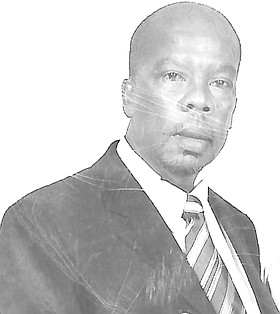 Retired Senior Customs Officer Tyrone "Lord Gill" Lurnis Cargill
unknown - unknown
Funeral Service for Retired Senior Customs Officer Tyrone Lurnis "Lord Gill" Cargill, age 65 years, a resident of Turtle Drive, Carmichael Road, will be held at 1:45 p.m. on Saturday, September 28th, 2018, at St. Cecelia's Roman Catholic Church, Poinciana Avenue, Coconut Grove. Officiating will be Fr. Noel Clarke, assisted by Deacon Danny Price and other Members of the Clergy. Interment will follow in Catholic Cemetery, Tyler Street.
He was pre-deceased by his Son: Tyson; Brothers: Godfrey and Anthony "Tooks" Cargill and Sister: Valderine Cagrill;
Memories linger in the hearts of his Sons: Tremis, T'no, Tyno and Tyrone Jr. Cargill, Anthony and Ricardo Clarke, Desmond Rolle and Roberto Kerr; Daughters: Tynisha "Baby" Cargill, Teneekniqua Gibson, Lekeisha Culmer, and Raven; Adopted Children: Travis Brown and Giovanno Bain; Grandchildren: T'anna, Arnold, Trenique, Trenae, Alliyah, Denitra, Tynika, T'ny, Shamiyah, T'ann, Ta'liyah, Telechia, Marques, Amirr, Desmond Jr., Dante', Tyvonia, Kiarra, Da'shonna, Darrien and Ty'nia; Great Grandchild: Telaya; Daughter In-Law: Kenderia Brown-Cargill; Son In-Laws: Marklen Gibson and Arnold Knowles Jr.; Sister: Ginger Cargill; Brothers: Dr. Patrick Cargill, Ambrose and Gregory Cargill; Sister In-Law: Susan Cargill; Aunts: Eulamae Edgecombe, Jennifer and Judith Minnis, Doris, Velma & Madge Cargill and Virginia Mortimer; Uncles: Randolph Minnis, Wendell Moxey and Wilbert Edgecombe; Nieces: Makeva, Shantell, Melverne, Alexis, Santillia, Lakisha, and Andrea; Nephews: Dr. Antoine Clarke, Marvin, Anjelo, Anthony Jr., Sean, Avery, Avard, Gregory Jr., Anwar, Ondre and Christian Cargill; Grand Nieces: Neketia, Catherine, Valneisha, Dominique, Naomi, Carlin, Angelique, Ariza, Azmara, Adian, Anisha, Arianna, Alyssa and Makisha; Grand Nephews: Zhivago Jr., Sean Jr., McKeo, Azai, Camron, Anjelo Jr., Michael Jr., Alex, Adrin, Tyrus, Tyre, Ame'ro, and Shevom; Cousins including: Dr. The Hon. Hubert A. Minnis, MP, Prime Minister, Commonwealth of the Bahamas, Algernon Cargill Sr., Godwin, Ian, Dr. Tyneil Cargill and Theresa Cargill-Burrows; Other Relatives and Friends including: Stephanie Cargill and Family, Family of the Late Arnold Cargill, The Cargill & Minnis Families, Oralee McPhee and Family, Elsa Munnings and Family, Julia Smith and Family, Tyrone Palmer, Amos Burrows, Adrian Smith, Brendan "Coley" Colebrooke, Craig Major, Clement Bosfield, Leonard Johnson, Dr. Geannie Moss, Comptroller-Bahamas Customs Department, Trillo Edgecombe, Kevin and Shakey, The crew from 3rd Street the Grove. The Gibson Family, The Wright Family, The Gittens Family, The Barton Family, The Daniel Family, The Cooper Family, Floyd and Family, St. Cecilia Church Family, Bahamas Customs Department, Staff of Havanatur (Bahamas) Ltd., Bay Street Garage Ltd, The Staff at Atlantis Cove, The Staff at Doctors Hospital (ICU), Grove Holiday Club, Thompson Boulevard Crew, The Softball Team Family, Bel Air Estates Community, Mr. Van Delaney and Family, Dale Rolle and Family, Coconut Grove Family, The community of Andros (Calabash Bay and Cargill Creek) and so many others too numerous to mention.
Funeral Arrangements are being handled by Cedar Crest Funeral Home and Crematorium Ltd, Robinson and Baillou Hill Roads
There will be no Public Viewing.