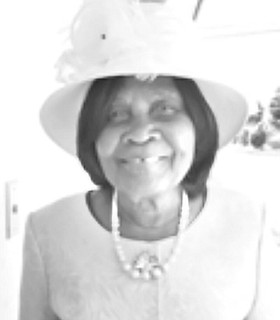 Chimene Paul
unknown - unknown
CELEBRATION OF LIFE FOR:
Chimene Paul
Age: 82 Years Old
A Resident of #12 Bamboo Street Golden Gates #1 who passed away peacefully on Saturday January 25th, 2020 at Princess Margaret Hospital. Celebration will be held on Saturday February 15th ,2020 at Our Lady's Catholic Church Deveaux & Young Streets Nassau, The Bahamas at 2:00pm. Officiating will be Father Wid Andy Beniste assisted by other ministers of the Clergy. Interment will be made at Lakeview memorial gardens located John F. Kennedy drive & Gladstone roads.
Left to Share Her Precious Memories are her parents: Fidelia Paul & Sama Paul; Daughters: Marlene Verdelus, Julie Mchardy, Princess Pierre; Sons: Tesson Paul Etienne, Darius Paul-Etienne, Vicky Jean-Pierre; Son In Law: Jean Widnay Toussaint; Daughter In Law:Juenne Doristin,Judith;GrandSons:Wilken Arris, Jean Widnay Toussaint Jr, David,Jimmy Pascal, Darwin, Samuel Benjamin,Daniel, Joel;GrandDaughter:Bernadette Nelson; Sisters:Nedirs Psul,Manm Dimase Paul, Madame Louise Paul;Brother:Christoph Paul;Nieces:Nadia Melidor, Kerune Melidor…Numerous Other family members to many too mention & Baint Town & Grants Town Community.

Relatives and friends may pay respects on Friday January 14th, 2020 at Rest on Funeral Chapel located # 19 Mount Royal Avenue and Kenwood Street from 12:00 p.m. to 4:00 p.m. Saturday at the church from 1:00 p.m. until service time.
Funeral arrangements are being handled by Rest on Funeral Chapel Limited and details will be announced at a later date.