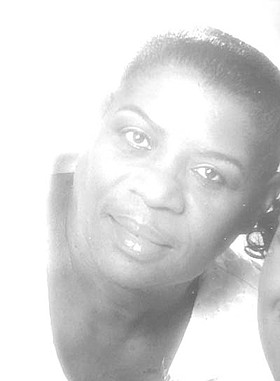 Alvira Smith
unknown - unknown
Funeral Service for Alvira Smith age 83 of Dart View Close off McKinney Drive who died on December 22, 2019 will be held on Saturday January 4th, 2020 at 10:00 a.m. at Faith United Missionary Baptist Church, Baillou Hill Road South. Officiating will be Rev. Arthur H. Charlton assisted by other Ministers of the Gospel.

Left to Cherish fond memories are her son: Dwayne Ferguson; four daughters: Marsha Jones, Wendy
Smith and Janet Davis; two adopted daughters, Teresita Woodside and Olive Mackey; daughter-in-
law, Rachelle Ferguson; two sons-in-law, Stanford Jones and John Davis; ten granddaughters, Tiffany
King, Lashanda and Brittany Knowles, Tiaja Jones, Tori & Tayla Ferguson, Sarah McKenzie, Janiska
Maycock, Irvinette Pratt and Ta-Keisha Miller; two adopted granddaughters, Teniecei Woodside and
Angel Darling; seven grandsons, Ian King, Malik Jones, Travon Knowles, Brian and Jason Davis, Troy and
Lavado McKenzie; grandson-in-law, Conrad Maycock; one adopted grandson, Teraughn Woodside;
three sisters, Mary Stuart, Doramae McKenzie and Vandelyn King; two brothers, Junior and Rolston
McKenzie; fifteen great-grandchildren, Brian Davis Jr., Jaden King, Taivan Thompson, Alexander
Woodside, Tori McKenzie, Ter'rhae Woodside, Janiyah, C'niyh-Janae, G'era Joe Maycock, Maia Davis,
Brandy Missick, Kaiden Minnis, Tex Jr., Jannice and Jaylen McKenkie; nieces and nephews, Aniska
Rolle, Brakell Stuart, Shanna McCartney, Jermie and Fabian Stuart, Joanne and Glen Rolle, Vanessa
Forbes, Chancel Rolle, Vanessa Rolle, Nicole Brown, Dave McKenzie, Ian, Tasha, Dwayne, Charo and
Carlisa McKenzie, Randalo and Rashad Miller, Nadine Sweeting, Brent Rolle, Clement and Gradia
McKenzie, Burnie Curtis of Vero Beach, Florida, Sharon Smith and Ingrid Boyd, Mark and Clint Boyd;
numerous other relatives and friends including: Rev. Arthur H. Charlton and Mt. Vernon Missionary
Baptist Church Family, Roslyn Cooper and Family, Colene Watson and Family, Sheila Gibson and Family,
Hon. Philip Davis and Family, Bertram Knowles, The Bolton Family, The Mortimer Family, Niecey
Deveaux and Family, Cecil and Judy Boyd and Family, Helen Thompson and Family, Kerlin King and
Family, Enid Boyd and Family, Prenell King-Rolle and Family, Ruth and Family, Anthony Richardson and
Family, Allen Cunningham and Family, Ed & Lowny Thompson and Family, Ryan Martinborough and
Family, Vernisha Moss and Family, Daneen Maycock & family, Esther Pinder and Family, Glen and Reissa
Johnson and Family, Kemuel and Renetha Pratt and Family, Allan Arahna, Bernadette Byrd, Donnette
Moss and Family, Nicholas Huyler, Richard Ingraham, Joshua and Blair Fernander, Uriel Gibson, Donny
Johnson Jr., Department of Public Service, Automotive Industrial Distributors Ltd. (AID), Bruce Lafleur &
Associates, The Model Bakery, Mr. & Mrs. Michael Moss, Vaughn O. Jones and the Staff of Vaughn O.
Jones Memorial Center, Flamingo Gardens Clinic, The Managers and Cashiers of Quality Supermarket
#12, R. M. Bailey Class of 1981, the Community of Dart View Close.
Viewing will be held in the Legacy Suite of Vaughn O. Jones Memorial Center, Mt. Royal Ave. and Talbot Street on Friday from 10:00 a.m. to 2:00p.m. Cremation will follow.