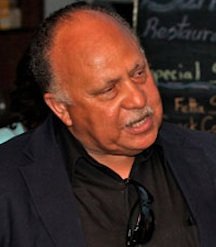 Dr David Allen
Stories this photo appears in:

NOTED psychiatrist Dr David Allen has called for a curfew in crime hot spots and urged the government to bring in law enforcement officers from overseas to help combat the crime problem.

PSYCHIATRIST Dr David Allen as well as families of murdered victims and residents of the Blair community are hosting an anti-crime rally tonight in direct response to recent rapes and home invasions in the capital.

UNEMPLOYMENT and a lack of follow-up treatment are some of the reasons people turn to suicide, according to noted psychiatrist Dr David Allen, who gave a presentation at a suicide prevention workshop yesterday.

FAMILY of homicide victims often suffer trauma that could spur them to retaliate, noted psychiatrist Dr David Allen said yesterday.
A GROUNDBREAKING approach to tackling the social ills that plague the Bahamas has achieved impressive results and now is attracting international notice for its potential value to other societies.

A LEADING psychiatrist says the two apparent suicides at the weekend indicate "deep levels of stress" exist in the country and research is needed to combat it.

YOUNG girls are turning to prostitution in an effort to make ends meet, according to a leading psychiatrist.

IN today's Insight, we present the official report on crime prepared by noted psychiatrist Dr David Allen. Some findings from this report were first published in The Tribune on March 30, 2012.

THE RECRUITMENT of foreign officers to assist in the fight against the rise of violent crime is one among a list of recommendations put forward in a new crime study conducted by noted psychiatrist Dr David Allen.