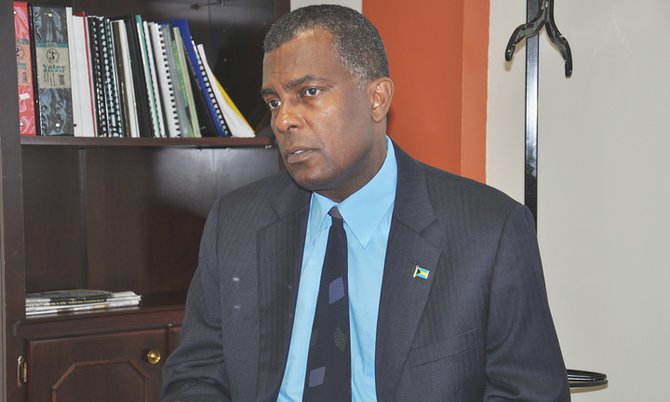 Minister of Foreign affairs Fred Mitchell.
Stories this photo appears in:

FOREIGN Affairs and Immigration Minister Fred Mitchell has downplayed an anti-Bahamas demonstration held in Miami by Florida state representative Daphne Campbell in protest of the country's immigration restrictions.

FORMER PLP Cabinet Minister George Smith has criticised the number of overseas trips taken by Foreign Affairs Minister Fred Mitchell.

FOREIGN Affairs Minister Fred Mitchell has urged third countries not to promote a message around the world that they will take migrants who make their way illegally to the Bahamas.

THOSE who call for the introduction of a national identity card "must also understand there are civil liberty implications" that can arise as a result, Foreign Affairs and Immigration Minister Fred Mitchell said yesterday.

FOREIGN Affairs Minister Fred Mitchell and National Security Minister Dr Bernard Nottage met yesterday with Panama officials to discuss the much-disputed offer of asylum for 19 Cubans who had been detained in Nassau.

WHEN asked about Prime Minister Christie's statement, Foreign Affairs Minister Fred Mitchell said that things could have been handled differently.
NO MEETINGS will occur today between Panamanian officials and Foreign Affairs Minister Fred Mitchell who dismissed reports yesterday that the government of Panama had granted territorial asylum to 19 Cuban nationals detained in the Bahamas as "misinformation."

SECURITY was heightened around the Bahamas' Consulate in Miami yesterday after the United States' Diplomatic Protection Services identified a threat that was made against the consul on Facebook.

FOX Hill MP Fred Mitchell yesterday lashed out at a daily newspaper after it published an editorial that lauded the accomplishments of former prime minister Hubert Ingraham.
THE Philippine Embassy yesterday appealed to the Bahamas government to allow its citizens to keep their jobs as the Christie administration's new and strict Immigration policies continue to cause concern among businesses.

The minister responsible for immigration yesterday declined to commit to the '20-day response' timeframe sought by the private sector for work permit approvals, admitting that "a drastic increase" in staff and technology was required to achieve this.

FRED Mitchell, Minister of Immigration, yesterday announced that officials plan to clamp down on the number of work permits issued annually.

IMMIGRATION Minister Fred Mitchell yesterday complained that a particular newspaper has continually petitioned for work permits to run its business while there are Bahamians capable of that duty.

THE TRIBUNE is the newspaper to which Immigration Minister Fred Mitchell refers in his comments to the House.

MINISTER of Foreign Affairs and Immigration Fred Mitchell said Prime Minister Perry Christie's participation in the CARICOM Heads of Government Meeting, held earlier that week, signalled his "re-emergence" in the Caribbean theatre.