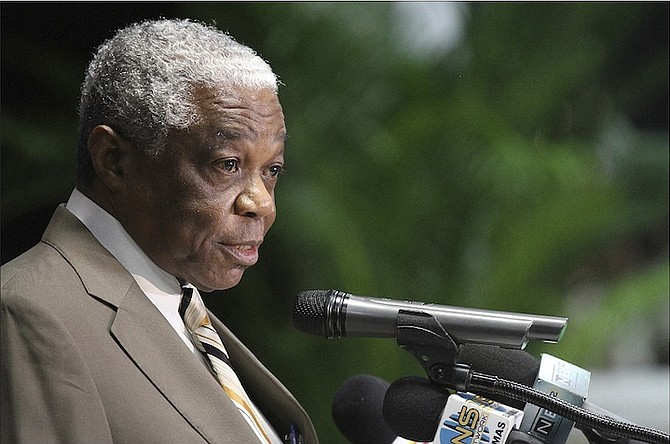 Dr Bernard Nottage
Stories this photo appears in:

For the eighth time, the Bahamas is set to host the region's premier junior athletics talent at the Flow CARIFTA Track and Field Championships.Under the theme "Faster Further, Higher", the North America, Central America and Caribbean Athletics Associ

FORMER Bain and Grants Town MP Dr Bernard Nottage was said to be "making some progress" in his recovery after he was admitted to hospital on Tuesday.

FORMER Deputy Commissioner of Police Marvin Dames last night criticised National Security Minister Dr Bernard Nottage and State Minister of National Security Keith Bell for their "continued silence" in the wake of a spate of killings.

STAFF of the Parliamentary Registration Department who deny people the ability to register to vote because of their dress must be sent home, National Security Minister Dr Bernard Nottage said in the House of Assembly yesterday.

WHEN Bahamians ask themselves which political party has the best policies to fight crime and improve people's lives, they will say the Progressive Liberal Party (PLP) does, National Security Minister Dr Bernard Nottage claimed yesterday.

MINISTER of National Security Dr Bernard Nottage said Wednesday that the Bahamas is in the "critical stages" of establishing a Drug Treatment Court to provide an alternative to incarceration for drug-dependent offenders through treatment and rehabilitation.

BAIN and Grants Town MP Dr Bernard Nottage yesterday said there is "nothing to be threatened about" by the Free National Movement's (FNM) recent ratification of 21-year-old Travis Robinson as the party's candidate for the area, adding that age is an "irrelevant" factor in either man's bid at securing the seat.

CHILD protection advocates pledged yesterday to continue their pressure on the government to fully enact amendments to the Sexual Offences Act and the Child Protection Act following the success of their viral protest.