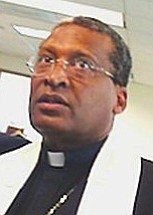 Archbishop Patrick Pinder
Stories this photo appears in:

AS fears continue to mount over the deadly coronavirus, Catholic Arhcbishop Patrick Pinder is urging parishioners across the country with flu-like symptoms to remain at home until their health has been fully restored.

THE late Monsignor Preston Moss was yesterday described by Catholic Archbishop Patrick Pinder as a man of "very deep faith" and an "engaging preacher with a deep, deep understanding and knowledge" of sacred scriptures.

ARCHBISHOP Patrick Pinder has urged Bahamians to consider the positive socio-economic impact of migration as the government continues to battle immigration challenges.