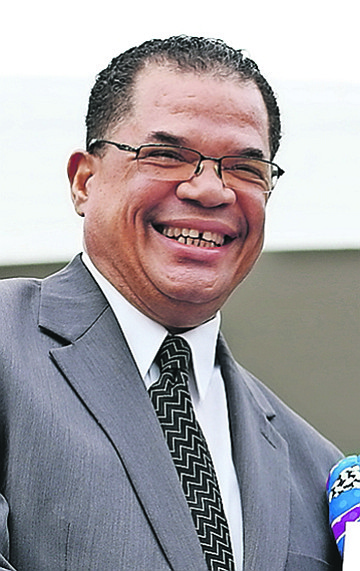 Minister of Labour Dion Foulkes.
Stories this photo appears in:

LABOUR Minister Dion Foulkes said he is currently working to see how best the government can reach a resolution after 30 people were terminated from the Gaming Board.

LABOUR Minister Dion Foulkes will officially rule today whether the Bahamas General Workers Union (BGWU) is allowed to proceed with planned industrial action amid its dispute with Bahamas Waste Limited over unsettled grievances.In an interview with T

IN the face of criticism of the Commercial Enterprises Bill, Labour Minister Dion Foulkes "guaranteed" Bahamians that "not one single job" will be taken from them as a result of the law's implementation. He also said the Progressive Liberal Party is

NEARLY half of the 77 Bahamas Telecommunications Company (BTC) contractors who were allegedly told to sign new contracts or be terminated have agreed to BTC's new terms, Labour Minister Dion Foulkes confirmed yesterday.In an interview with The Tribun

THE MINISTRY of Labour is to take its employment initiative on the road to sign up qualified Bahamians on the Employment Exchange for work.Senator and Labour Minister Dion Foulkes said the initiative would target the low employment areas of New Provi
LABOUR Minister Dion Foulkes plans to meet with banking authorities next week to address numerous reports and complaints over increases in service fees and charges by some commercial banks.A statement yesterday said complaints made to the the Consume

THE conservative fiscal measures undertaken by the Minnis administration were introduced as a means to avoid another downgrade, according to Labour Minister Dion Foulkes, who yesterday contended that the nearly 6,000 public service hires by the Christie administration played a significant role in past credit downgrades.

MINISTER of Labour Dion Foulkes has downplayed the slight dip in the unemployment rate, saying yesterday many of the jobs from the sample period came from temporary employment and it is likely these workers are now on the unemployment line.

LABOUR Minister Dion Foulkes said yesterday more than 350 local construction workers will be engaged during the upcoming renovation of the Riu Palace on Paradise Island.

PRIME Minister Dr Hubert Minnis has directed government officials to ensure that no foreigner should get a work permit where there are qualified Bahamians to fill that position, Minister of Labour Dion Foulkes said yesterday.