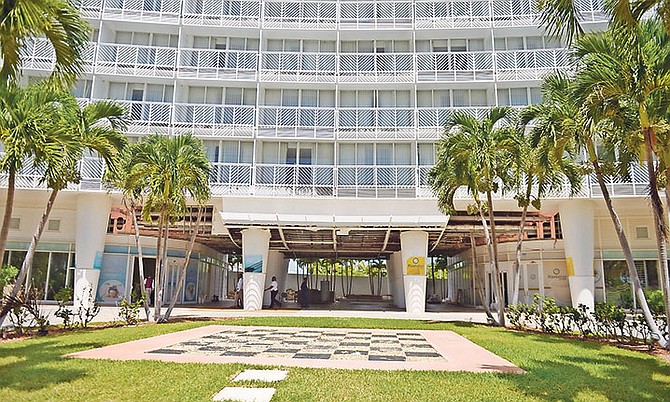 The Grand Lucayan resort.
Stories this photo appears in:

PROGRESSIVE Liberal Party Leader Philip Davis yesterday blasted the government for placing the burden of Grand Lucayan severance packages on taxpayers, pointing to "myopic" and "incompetent" negotiations.

The Grand Lucayan's workforce will likely be cut by 50 percent through a voluntary separation (VSEP) exercise to launch around month's end, the resort's chairman revealed yesterday.

The Grand Lucayan's chairman yesterday accused Hutchison Whampoa of displaying "a lot of bad faith" over the $65m deal's closing, branding negotiations as "nasty and torturous".Michael Scott, chairman of Lucayan Renewal Holdings, the Government-owned

GRAND Bahama State Minister Senator Kwasi Thompson revealed that there is "high interest" from prospective buyers to purchase the Grand Lucayan resort property in Grand Bahama.

LUCAYAN Renewal Holdings Limited, the government's special purpose vehicle given the task of finding a purchaser for the Grand Lucayan, has received "several" expressions of interest from prospective buyers.

The Government was "too nice" in allowing Hutchison Whampoa to exit its Grand Lucayan debacle without paying $3.25m in Stamp duty and pocketing other payments/concessions.

DEBATE on a resolution for a $35m loan to complete the government's Grand Lucayan purchase in Grand Bahama was delayed yesterday after the Official Opposition refused consent insisting they did not receive the needed documents to properly debate the

The government will assume all li abilities including about $1m in back pay owed to workers at the Grand Lucayan resort in Grand Bahama.

AS the Minnis administration aims to complete the purchase of the Grand Lucayan resort in Grand Bahama next week, The Tribune was told officials are in the process of having the resort reappraised for reselling purposes.

OFFICIAL Opposition Leader Philip "Brave" Davis yesterday demanded the government make public an appraisal done on the Grand Lucayan, telling supporters the Minnis administration may be spending far more than the resort's estimated value.

THE government intends to write a promissory note to Hutchinson Whampoa to complete the $65m purchase of the Grand Lucayan, The Tribune was told.Last week, Prime Minister Dr Hubert Minnis revealed the government made a $10m down payment towards the p