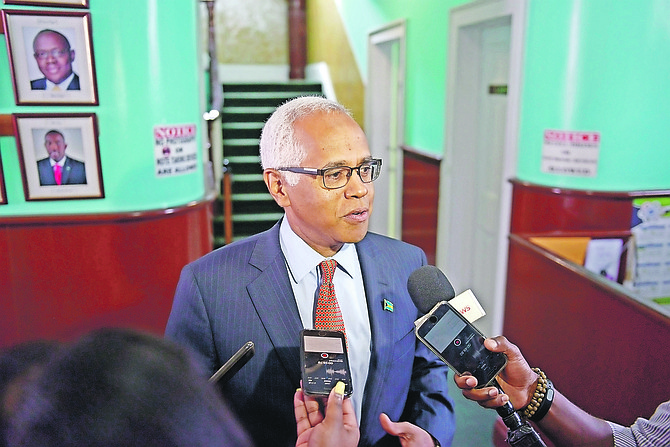 Dionisio D'Aguilar
Stories this photo appears in:

FREETOWN MP Dionisio D'Aguilar leads his parliamentary colleagues with the most recorded House of Assembly absences since the Free National Movement took office in 2017.

A major cruise line has agreed to withdraw a crime warning that threatened to "unduly bring fear to passengers coming to Nassau", a Cabinet minister has revealed.

The Bahamas "cannot ignore" China's fast-growing tourism market even though the US will "always be our bread and butter", the Minister of Tourism argued yesterday.Dionisio D'Aguilar, who has just returned from leading a joint industry-government dele

The Minister of Tourism yesterday revealed the Government could save $12m per year after it completely "scrapped" the tax incentive regime for cruise lines.Dionisio D'Aguilar, pictured, speaking ahead of a Cabinet meeting, said the departure tax reba

AFTER Bahamasair experienced a "nightmare" weekend of protracted flight delays due to a plane needing mechanical work during a busy weekend, Tourism Minister Dionisio D'Aguilar said as the slow season approaches, the state-owned airline should be able to meet demand even with a plane out of service.

TOURISM Minister Dionisio D'Aguilar said yesterday the government was forced to act to save the Grand Lucayan hotel properties because its owner Hutchison Whampoa has been threatening to shut down the property.

WHILE the government will forge ahead with its new five percent stamp duty on web shop deposits, it does not mean this tax will forever remain at this rate, Tourism and Aviation Minister Dionisio D'Aguilar said yesterday.It comes as FML Group of Comp

TOURISM Minister Dionisio D'Aguilar yesterday insisted the government would not adjust its sliding scale tax structure imposed on gaming operators regardless of the findings of a study on its impact.Mr D'Aguilar rebuffed suggestions the government's

Bahamian gamblers will enjoy a two-month reprieve from the budget's twin five percent levies because they are "not as easy and straightforward" to implement as the government thought.

THAT Island Luck employees were seemingly threatened with a loss of pay if they failed to attend Thursday's protest is a "blatant, naked attempt to take advantage of poor people", Tourism and Aviation Minister Dionisio D'Aguilar said yesterday.

TOURISM and Aviation Minister Dionisio D'Aguilar said the government will be flexible with web shop taxes, adjusting its new sliding scale scheme if it proves too onerous.