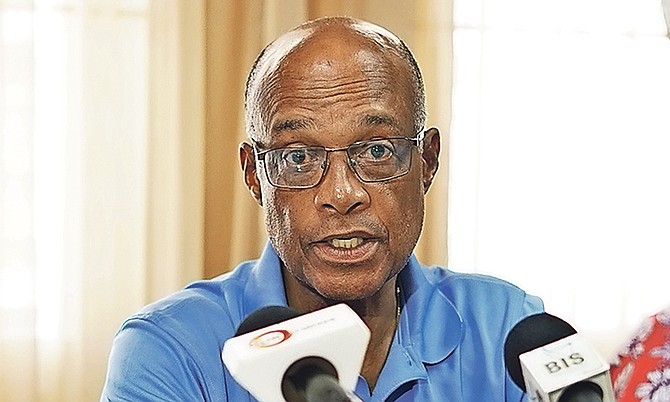 Education Minister Jeffrey Lloyd.
Stories this photo appears in:

EDUCATION Minister Jeff Lloyd yesterday called for parents to ensure students come to school prepared to learn and not engage in nefarious activities - and said campus security is under review.

EDUCATION Minister Jeff Lloyd has decried the demonstration by a small contingent of SC McPherson Junior High School teachers that occurred Friday morning, insisting this broke an industrial agreement with teachers and the public school system.

A NINTH-grade student was fatally stabbed Tuesday following an incident outside a school with another teenage boy.

THERE are two separate confirmed cases of tuberculosis at Government High School and at AF Adderley, Education Minister Jeffrey Lloyd said yesterday.

ONE day after a student was stabbed at CC Sweeting Senior High School, Education Minister Jeff Lloyd has insisted public schools are safe for students and teachers alike.

EDUCATION Minister Jeff Lloyd said his ministry has not yet taken the steps necessary to address issues raised at CV Bethel following an altercation involving a student and teacher last week.
Jeffrey Lloyd, the Education Minister, yesterday stressed there were no threats to the safety and welfare of teachers at public schools across the country as he committed his ministry to swift action after a teacher at CV Bethel Senior High School was reportedly beaten by students

WHILE Education Minister Jeff Lloyd said CH Reeves Junior High School has been "scrubbed down" to ensure it is safe for occupancy, the Bahamas Union of Teachers insisted industrial action could still be on the table pending an inspection by educators today.

EDUCATION Minister Jeff Lloyd said yesterday his ministry has addressed all 20 initial complaints listed by the teachers of C H Reeves Junior High School in their trade dispute, however he added "every single day" the teachers raise another issue.

EDUCATION Minister Jeff Lloyd said teachers and students returned to CH Reeves Junior High School on Tuesday after a two-week sit out was conducted by teachers.The minister said: "I'm happy to tell you that teachers returned to the classroom on Tuesd

THE Ministry of Education yesterday launched the second phase of its universal pre-school programme with a contract signing for its private pre-school partnership.