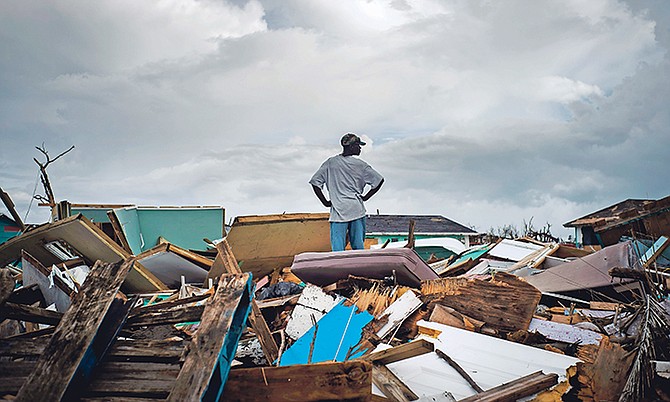 A man stands on the rubble of his home in a shanty town in Abaco after the passage of Hurricane Dorian. Photo: Ramon Espinosa/AP
Stories this photo appears in:

RIGHTS Bahamas said yesterday it would not relent in taking legal action over the government's decision to compulsorily acquire shanty town land, branding the move "xenophobic and petty".

The Bahamas faced "serious challenges" with aging infrastructure prior to Hurricane Dorian, the Inter-American Development Bank (IDB) said yesterday, with public investment "insufficient".The multi-lateral lender, unveiling its Caribbean Regional Qua

HURRICANE Dorian brought the many serious issues regarding shanty towns in Abaco into sharp focus. If ever doubted, it is now crystal clear that the residents of these communities are among the most vulnerable who live in our midst. It is also beyond question that these unfortunates remain victims of a brand of xenophobia so deep-rooted and persistent that not even a tragedy of this magnitude can assuage it.