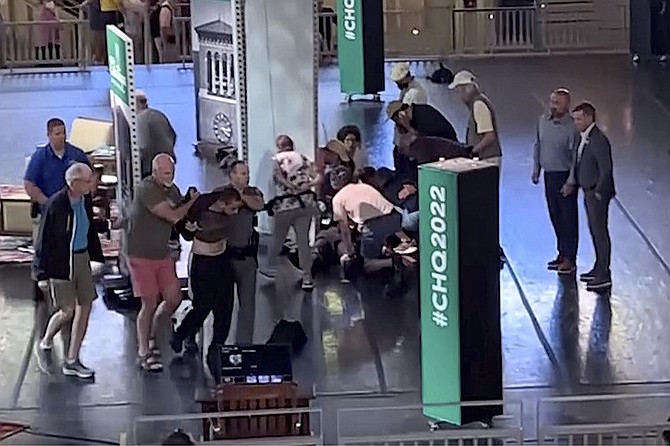 THIS still image from video shows Hadi Matar, 24, of Fairview, New Jersey, at left, being escorted from the stage as people tend to author Salman Rushdie, centre right, at the Chautauqua Institution, in
Chautauqua, New York, on Friday. (AP photo)
Stories this photo appears in:

AS the war in Ukraine grinds on remorselessly and remains a threat to global peace, the hope expressed by Putin some while ago that NATO and the West might lose interest and turn their attention to the next world crisis has not been realised. Nearly six months after the Russian invasion, their commitment to assist the Ukrainians in repelling Russian aggression is as strong as ever. To illustrate this, a significant event took place last week in the Danish capital, Copenhagen, which seems to have attracted relatively little international media coverage.

DR VICTORIA Allen, wife of a noted Bahamian psychiatrist, has recounted the horrific stabbing of internationally renowned author Sir Salman Rushdie just after he took the stage at an event in upstate New York on Friday.