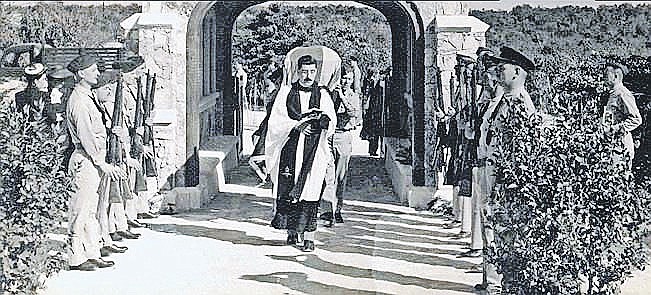 THE FUNERAL for eight men concurrently, and which might easily have meant double that, had the other aircraft been unable to belly-land, involved many trucks, gravediggers, officers and men, religious, RAF, and administrative leadership as well as the presence of two wives. It was the largest since over six months before, when six Czech aviators and a Brit crashed in the B-25 FV953 and all perished. Most mass casualties happened over the horizon with planes missing at sea.
Stories this photo appears in:

THE build-up of New Providence into the hub of all South Atlantic air deliveries to the Allies in Africa, the Mediterranean, Middle and Far East was sudden, yet the nation's air hub was built as Windsor Field for the RAF Ferry Command, and to support the RAF Transport Command, the No 113 Transport Wing instructors who trained over 7,000 students for the front, and to deliver over 9,000 aircraft to Africa.