PRESIDENT of the Bahamas National Council for Disability Sheila Culmer yesterday urged the Constitutional Committee to add disability rights to the fundamental rights protected by article 15.
MORE than six per cent of the population of Spanish Wells, Long Island, Acklins and Crooked Island has a disability of some kind according to statistics published by the Department of Statistics.

JOB discrimination and limited employment opportunities for Bahamians with disabilities have facilitated in many ways my ability to reflect on the current status of young adults with disabilities who have attained degrees from higher educational institutions. I too reflect on their need for vocational rehabilitation services and the many challenges they face seeking employment.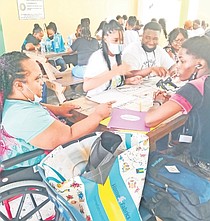 PARTICIPANTS in the Bahamas Coalition for Disability Awareness and Services' Camp Inclusion '22.
[]
Create search alert for "(여대생폰팅) WWWͺDEDAͺPW 서양하는법 서양홈런۩서양녀강추♢서양녀갖는법㊗と踘disabled"