ONCE again, members of the Bahamian sporting media were treated to a Super Bowl party at the Atlantis resort in a show of appreciation for their support of sporting activities held during the course of the year.

STUDENTS of the L W Young Boys and Girls Empowerment Club participated in a one-day seminar at the Fox Hill Community Centre on Friday.

THE nation bid final farewell to a titan of the religious community at the state recognised memorial of Reverend Dr Charles W Saunders yesterday at Salem Union Baptist Church.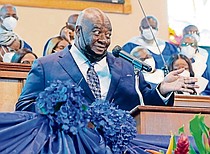 BYRON SAUNDERS, the son of the Rev Charles W Saunders, addressing the memorial service.
[]
Create search alert for "W BET365(벳365) cddc7닷컴 [보너스번호 b77]사설사이트℆네이버스케쥴😫AFC 윔블던ㄩ프리미어리그순위ɪBET365(벳365)선호 spermatorrhea/"