Sort By
Date
The Progressive Liberal Party government's plan to introduce local government in Nassau will add another unnecessary layer of bureaucracy in the capital, which is where the central government is headquartered. The prime minister resides in Nassau. In fact, every prime minister dating back to Sir Roland Symonette lived in Nassau. To the best of my knowledge, each of Nassau's 24 MPs resides in New Providence, where the House of Assembly and the Senate are located.

A multi-million underwater explorer yesterday said it will cease treasure salvaging in Bahamian waters immediately if the Government's plans to take a "majority" share of the financial rewards prove unworkable.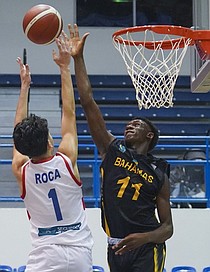 Bahamas' Romial Strachan Jr goes up for a block against Puerto Rico's Gustavo Alfonso.
Monday, 20th June, 2022.

THE Public Hospitals Authority has signed a contract for approximately $1.6 million with Pinnacle Investment Company Limited for the renovation and upgrades of the morgue at Grand Bahama's Rand Memorial Hospital.
A TEAM is being established to deal with issues related to gender-based violence, Press Secretary Clint Watson announced on Friday.
Bahamian businesses yesterday warned any increase in electricity costs will be "pretty dangerous" for an economy still recovering from COVID-19's devastation, although some said spiking global oil prices make such a hike "inevitable".

FOUR young men were in a Magistrate's Court yesterday faced with various charges, including two counts of armed robbery and possession of a firearm and ammunition.

FARMERS occupying Crown land in the Carmichael Road area raised issues with Friday's police ride-along in their community and what they claim is wilful government neglect of deforestation there.
Andros has exceeded last year's total stopover visitors by 66.5 percent in just the first four months of 2022, it was revealed yesterday, despite airlift woes being "the bane of everybody's life".

BOSTON (AP) — The Golden State Warriors are NBA champions once again, topping the Boston Celtics 103-90 last night for their fourth title in the last eight seasons.
The Bahamas was yesterday urged to start a youth movement so it can grow - for "generations to come" - a flats fishing industry likely to have expanded far beyond its $141m economic impact in 2010.

WE'VE returned in this space several times over the past four months to the question of the inevitability of US and Western involvement in a shooting war with Russia over its invasion of Ukraine. Even as most major American media focus once again on ex-President Donald Trump, the January 6 committee hearings into his casual incitement of a shocking and fatal riot, and the chances of someone else taking control of the Republican Party before 2024, experts and scholars are quietly wondering aloud if America isn't already at war with Russia and what it could mean for the short-term future of the world.