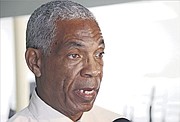 By AVA TURNQUEST
Tribune Chief Reporter
aturnquest@tribunemedia.net
ROAD Traffic Department Controller Ross Smith confirmed yesterday that officials are still actively supplying evidence to police in connection with the auditor general's findings of multi-million dollar losses at the department.
Mr Smith remained tight-lipped on the scope of the police investigation, stating only that no charges have been filed in the matter.
He explained that any worker accused of fraud would be placed on administrative leave pending the outcome of a trial, unless there are "mitigating circumstances" determined by the Ministry of Public Service.
Mr Smith acknowledged that there has been "a lot of fallout" amid the massive rollout of internal controls at Road Traffic offices throughout the country as the department readies itself for the launch of its new automated system in the upcoming weeks.
"We have acted on that (auditor general's report), and put in a lot of controls in the area. There has been a lot of fallout. People will rebel against change."
He added: "Any evidence that we find that is connected to those findings, we send over to police. This is an ongoing matter, and we have to do it in order to stamp out these old practices.
"It didn't happen overnight, so we don't expect everything to go away. We've seen a lot of changes and adherence to the policy."
Auditor General Terrance Bastian's damning report on the department was tabled in the House of Assembly in May. The report focused on vehicle license revenue and payroll processing and covered the period July 1, 2012 to June 30, 2015.
Mr Bastian warned of a severe lack of order and control over the assets and revenue collection at the Road Traffic Department, revealing millions in losses from vehicle license revenue due to employees and motorists "circumventing rules and regulations."
At a minimum, it is believed some $10 million in vehicle license revenue is being uncollected. Mr Bastian also highlighted instances of apparent fraud and "collusion" involving inspectors, writers and cashiers as they carried out daily tasks.
The department's automated system is expected to go live in about six weeks, according to Transport Minister Glenys Hanna-Martin.
In a press statement released yesterday, Mrs Hanna-Martin renewed her pledge for the modernisation of the department and protection of public revenue.
The statement read: "Reports by the auditor general have identified vulnerabilities which have plagued this department for decades, leading to potential and actual revenue leakages on a sustained basis for decades.
"Matters arising from the auditor general's reports have been referred to the Royal Bahamas Police Force for investigation and necessary action where warranted. Malfeasance and theft are not tolerated by this ministry," she said.