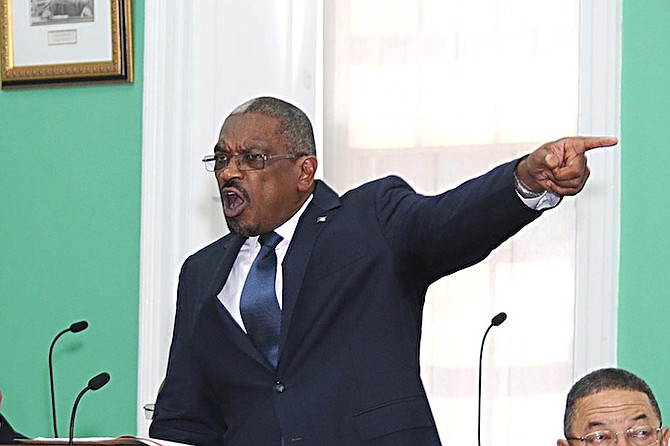 By AVA TURNQUEST
Tribune Chief Reporter
aturnquest@tribunemedia.net
FREE National Movement Leader Dr Hubert Minnis yesterday maintained that he disclosed his interests in a company that received a government contract when he was elected in 2007, but refused to further discuss the matter.
Dr Minnis insisted that his previous declaration over the issue was "available for revision."
However, he would not respond to questions on whether the conflict of interest claims against him and his charge against Attorney General Allyson Maynard-Gibson were comparative in nature.
When asked whether or not he will continue his call for Mrs Maynard-Gibson's resignation, Dr Minnis said: "I remain focused to remove the PLP, to move all, not any one in isolation. I will continue to point out to the Bahamian people the neglect of this country and the bad governance of the PLP.
"I'm focused on moving the entire PLP regime."
During a later conversation, he said: "I will do whatever is necessary."
Dr Minnis maintained his position that the resurrection of conflict of interest claims against him were an attempt to deflect from the government's bad governance; however, he softened his stance against Mrs Maynard-Gibson and his call for her resignation due to her family's involvement in Baha Mar.
"At this point in time the PLP is trying to use me as a deflection from their bad governance. The people need to know about BAMSI, the garbage trucks, and who else may be involved in Baha Mar.
"The rise in poverty, the shrinkage of the middle class, the cost of health care increasing, the inadequacy of medication and inability to obtain proper medication, surgeries are being cancelled.
"These are issues that face us today. This is just deflection, the issues remain. We (in the FNM) are anti-corruption and we will build a better government."
In 2005, a company called Leechez Investments Ltd - in which Dr Minnis has shares - was awarded a contract with the Public Hospitals Authority (PHA) for lease of its Stat Care building.
While the contract was awarded before Dr Minnis entered politics in 2007, the contract reportedly continued while Dr Minnis was health minister, and still exists today.
Allegations that the matter presented a conflict of interest were raised by Progressive Liberal Party Chairman Bradley Roberts last week, who called Dr Minnis a "hypocrite" over the opposition leader's critique of the attorney general. Mr Roberts threatened to reveal documents that extensively outlined the nature of Dr Minnis' alleged conflict of interest when it was politically expedient to do so.
Dr Minnis has previously said the matter was a red herring because he disclosed his connection to Stat Care when he became a politician.
Mrs Maynard-Gibson initially revealed that her two daughters had leases to operate stores in Baha Mar. However, she later clarified that her husband Maxwell Gibson owns the retail jewellery store chain that has been granted those storefront leases.
Mrs Maynard-Gibson said she informed Prime Minister Perry Christie of her family's involvement prior to her appointment to lead a government delegation to China to mediate talks between the resort and its Chinese stakeholder.
Dr Hubert Minnis called the matter an "overt conflict of interest" and insisted that Mrs Maynard-Gibson "do the honourable thing" and resign from Cabinet.
He pledged that the Free National Movement would continue to pressure the Christie administration on the matter.