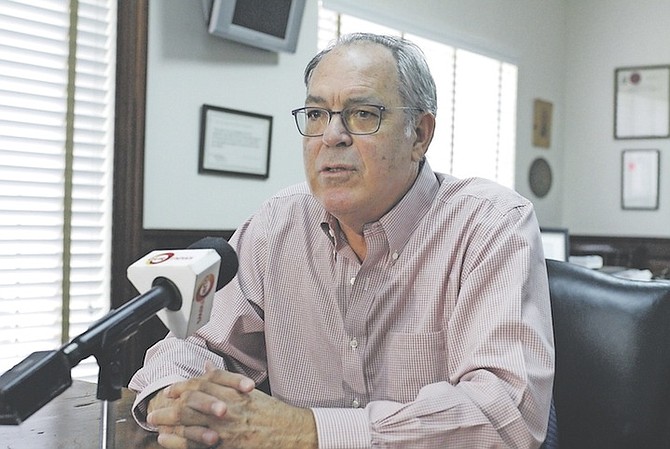 FORMER Deputy Prime Minister Brent Symonette leads the pack of a long list of millionaires and wealthy candidates who are vying for seats in the House of Assembly with a total net worth of $156m, according to financial disclosures submitted to the Parliamentary Registration Department.
According to the disclosures, Mr Symonette, the Free National Movement's candidate for St Anne's, listed his total assets as $159m with an income of just over $6.2m a year. His liabilities are $2.6m.
Among his assets, the Lyford Cay resident noted that he has $2.1m in a current account, $140m in securities and $10m in real estate.
According to financial disclosures released in May 2011, Mr Symonette had a net worth of more than $65 million as of December 31, 2007. This is significantly more than the $7.1 million Mr Symonette declared in his financial disclosures on December 31, 1998.
However, Mr Symonette is not the only wealthy candidate on the list.
FNM Leader Dr Hubert Minnis, who is hoping to retain his Killarney seat, has a net worth of $12.6m, up from the $10.9m he declared in 2012.
The declarations also show that Dr Minnis still has a contract with the Public Hospitals Authority, which is leasing a building from his company Leechez Investments at a rate of $7,500 a month. The contract began in May 2005 before he was a member of Parliament.
Prime Minister Perry Christie, the PLP's incumbent for Centreville, listed his net worth as $2,029,151, which is roughly the same amount he declared in 2012. He was worth about $2.2m according to his declaration in 2007.
According to the latest declaration, of his assets Mr Christie listed $226,435 in savings accounts, $27,375 in current accounts and $10,000 in securities. He listed $69,878 in accounts receivable and said his home is worth $700,000. He listed a salary of $139,000 with other income as $11,860.

Political newcomer Bishop James Darling of the Bahamas Constitution Party listed his net worth as $48m. Bishop Darling, whose occupation is listed as a "minister of religion," listed the bulk of this figure as $40m from securities.
He is vying to unseat Mr Christie in the Centreville constituency.
Other wealthy candidates of note include Minister of National Security Dr Bernard Nottage, the PLP's incumbent for Bain and Grants Town, who has a net worth of $7.2m.
The PLP's Tall Pines standard-bearer Leslie Miller has a net worth of $7m, with total income listed as $260,000, with $86,000 in salary, $54,000 in real estate, and $120,000 in other income. He declared having a contract with the government through his company Summerwinds Investments Ltd, which he said rents properties to the government.
PLP Marathon MP Jerome Fitzgerald listed his net worth at $3.95 million, with a total income of $656,000. He has no liabilities listed. His declaration lists $20,000 on his current account, $3m in securities, $700,000 in real estate, a $20,000 automobile and property worth $250,000 under assets.
PLP Cat Island, San Salvador and Rum Cay incumbent Philip "Brave" Davis has a net worth of $4.3m, while PLP Golden Gates representative Shane Gibson listed his net worth as $1.4m with total assets valued at $1.8m. Mr Gibson listed his total income as $315,000 with total liabilities at $309,710. He noted $12,656 in his savings and pension accounts, $11,026 in his current account and $217,753 in securities. He has a salary of $117,000, securities income of $146,400 and $51,600 in real estate income.
PLP incumbent for Mount Moriah Arnold Forbes has a net worth is $3m with the bulk of this figure coming from real estate valued at just over $2m.
Minister of Environment Kenred Dorsett, the PLP's incumbent for Southern Shores, has a net worth of $2.8m while Khaalis Rolle, PLP representative for Pinewood, has a net worth of $1,760,530.
In the FNM, Elizabeth candidate Duane Sands has a net worth of $6m. FNM Golden Gates hopeful Michael Foulkes listed his assets as $1.1m.
The party's Mount Moriah hopeful Marvin Dames listed a net worth of $1m while the party's candidate for North Eleuthera Howard "Rickey" Mackey lists his net worth as just over $5m.
The FNM's Fox Hill hopeful Shonel Ferguson has a net worth of just over $1m.
Her rival in the Democratic National Alliance Kendal Smith lists his net worth $1.1m.
The DNA's candidate for South Beach, Randy Butler, has a net worth of $12.4m.
Lincoln Bain, the DNA's Pinewood candidate, listed a net worth of $1.2m, while DNA candidate for Golden Isles Stephen Greenslade has a net worth of $6.8m.
Independent Long Island candidate Loretta Butler-Turner has a net worth of $3.1m.
Not everyone running in the next election is a millionaire.
PLP Yamacraw standard-bearer Melanie Griffin listed her net worth as $561,439 and her rival in the FNM Elsworth Johnson lists his as $650,500.
FNM Bain and Grants Town candidate Travis Robinson has a net worth of $7,300.
Denise Rolle, a newcomer vying for the North Andros and Berry Islands seat, has a net worth of $1,500 with no salary or income noted.
The full list of financial declarations was published in The Nassau Guardian on Saturday.