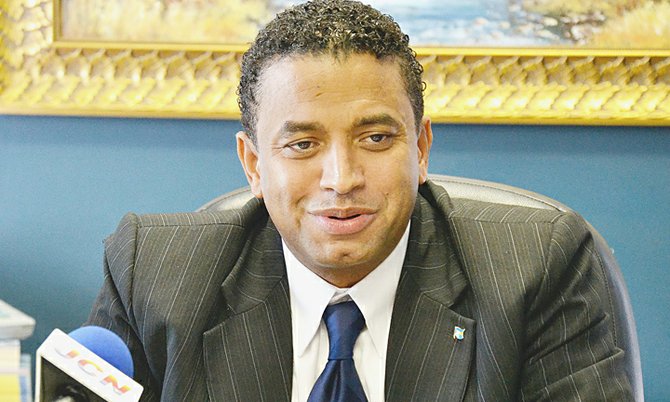 By SANCHESKA BROWN
Tribune Staff Reporter
sbrown@tribunemedia.net
DNA Leader Branville McCartney said yesterday if his party is elected to office, its first course of action would be to "immediately hang anyone who is convicted of murder".
He added that National Security Minister Dr Bernard Nottage should "stick to gynaecology" as opposed to national security because he "obviously has no solution to the country's growing crime problem".
At a press conference, Mr McCartney said it is obvious that Dr Nottage "lives in another universe" if he still thinks New Providence is a safe place.
His comments came after three men were killed in three separate shooting incidents in less than 12 hours – taking the country's murder count to 106 for the year.
"I would start hanging people," he said. "I would make it the law right away. You commit murder, you will meet your maker. You will talk to the Almighty. I will not have any criminal element in this country controlling our way of life. I call on the commissioner, the minister of national security, his junior minister and the prime minister to do their jobs. The good gynaecologist needs to do something, these criminals are winning the war."
Mr McCartney also questioned several of the government's crime fighting strategies, that he said are not yielding results.
"Is the minster of national security saying that it is safe in this country? I have a problem with the minister saying foolishness, he ought to stick to gynaecology as opposed to national security because he does not know his front from his back. This place is not safe," he said.
"I do not feel safe. Where does he live? We had three murders in 12 hours, does he know this?"
Mr McCartney said international human rights groups need to "stay the hell out of our business" and the government needs to abandon the London-based Privy Council, our final court of appeal, and start "executing these criminals".
"What happened to the death penalty? Let's fix the law so it can be carried out. If we have to get rid of the Privy Council then do it. They don't know what is going on in this country, they don't feel it. And Amnesty International needs to stay the hell out of our business when it comes to the criminal element. They don't know what is going on here when you go home at night and you are afraid for your life. Stay out of our business, man. Stay out," he said.