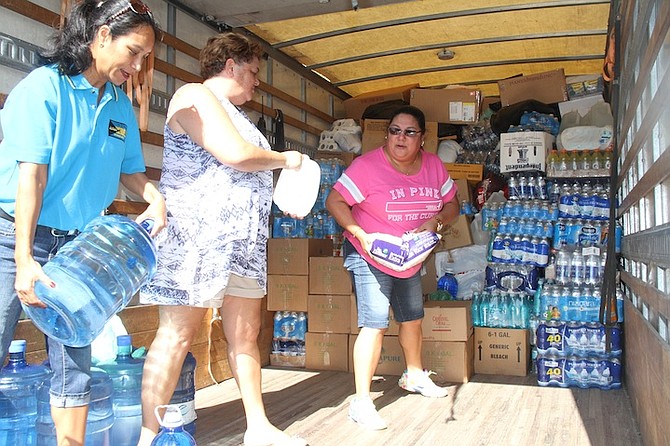 By STEPHEN HUNT
shunt@tribunemedia.net
A NUMBER of relief efforts have been launched around The Bahamas to assist those who have been affected by Hurricane Joaquin.
The Tribune here lists some of the efforts in the community, along with where you can drop off donations and how you can help through volunteering or financial donations.
If you are involved in a relief effort and wish to be added to the round-up, contact Stephen Hunt on 447-3565 or contact him on Twitter @chippychatty.
TUESDAY'S UPDATES
The Lady Francis boat is leaving for San Salvador today. A call has gone out for donations of tarps/covers, blankets and sheets to be given to the ship at Potter's Cay Dock before 6pm. Organisers would also like a small generator if possible.
MONDAY'S UPDATES
Genesis Academy on Shirley Street is also accepting donations. Relief goods can be left at the school from 8.30am-4.30pm Monday-Thursday and until 3pm on Friday. All useful donations are accepted.
A BOAT is loading up at Potter's Cay to set off tomorrow for Acklins, Long Cay and Long Island.
Donations are being accepted until 6pm tonight and 10am tomorrow, with juice and water being particularly requested.
Theus Rolle said that people in the area were in particular need of fluid. Donations can be left with her for the New G at Potter's Cay dock or with Hank if she is unavailable.
The Long Island Hurricane Relief page has posted the following list of needs: 
Goods are being accepted still at Odyssey Airport (Coral Harbour Road) and tomorrow boats are leaving from Potter's Cay Dock:
Long Island 
-Sea Link Mailboat, 12pm going to Simms, North LI
-New G Mailboat, 12pm going to Clarence Town, South LI
-Island Link, 3pm going to Salt Pond, Central LI
Crooked Island 
-New G Mailboat, 12pm
Acklins 
-New G Mailboat, 12pm
Long Cay
-New G Mailboat, 12pm
Rum Cay 
-Lady Francis, 6pm
San Slavador 
-Lady Francis, 6pm
THE IMMEDIATE NEEDS:
-Bleach 
-Chlorine Tablets 
-Tarp
-Bedding Supplies 
-Feminine Hygiene Items 
-Water
-Tuna 
-Corned Beef
-Mayo
-Cracker 
-Soups
-Disinfectant 
-Brooms, Mops 
-Insect Reppellent 
-ALL THINGS BABY
Trans Island Airways and Rotaract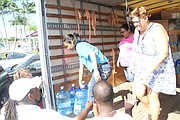 The Trans Island Airways relief effort is flying supplies out today to affected locations. Supply drop locations include Odyssey Aviation, the Seahorse Institute and the Kitchen Deli. The team is calling for any supplies or funds that people can contribute. Rotaract have listed as emergency needs water, non-perishable food items, first aid supplies, batteries, flashlights, tarps, garbage bags, gloves, toilet paper, paper towels, matches, pet food, two-way radios for first responders, baby formula and diapers. Secondary needs are clothing, tools, cleaning supplies, mattresses, linens and radios. Jet fuel donations can be made via cash and credit card, contact 357-9876. Email rotaract.senc.bahamas@gmail.com for more information.
HeadKnowles
On Sunday, the HeadKnowles team is asking for people to come to the Furniture Plus Distribution Centre with donations or to volunteer to help sort through supplies. Donations can also be given to the Red Cross or dropped off at Odyssey Aviation. Water and clothes have been identified as the highest prorities for donations today.
Through the month – though closed today – New Oriental Laundry locations at Prince Charles Drive, Mackey Street, Golden Gates and Cable Beach have donation bins for gently used or new clothes and shoes, blankets, water, non-perishable food and snacks such as canned food and rice, baby items, toiletries, feminine products and pet supplies including cat and dog food.
HeadKnowles is also appealing for cash donations for gas for planes and lumber for house repairs. The organisation says it has been contacted by many large companies such as Milo Butler. For more information, visit https://www.youcaring.com/bringing-relief-to-our-families-in-the-bahamas-443717.
Rotary Club of East Nassau
The Rotary Club of East Nassau has announced that donated canned goods, clothing, water and other non-perishables can be dropped to Ben Albury, the General Manager at Bahamas Bus and Truck Company, on Montrose Avenue and Tenwich Street on Monday morning. Mr Albury will arrange delivery to the islands that need the supplies the most.
The club says it will be creating a separate crowd funding initiative and will hold is a fundraiser on Thursday evening at Bambu with all $20 admissions going to the hurricane relief cause. Information on the GREAT (Global Rotary East Action Today) Facebook page. Or visit https://d/projects/hurricane-joaquin-bahamas-relief-fund/#/
Long Islanders' Association
Also based at Odyssey Aviation are team members from the Long Islanders' Association, who are accepting donations. The association has also authorised a fundraising account through Indiegogo at https://www.indiegogo.com/projects/bahamas-hurricane-joaquin-relief-efforts#/
Deposits can also be made at a number of banks as follows:
Scotiabank – account name: Hurricane Relief Long Island Bahamas. Account number: 170941. Branch Transit Number: 03465
For more information, contact Dwight R. Burrows on 424-2746; Gina Coakley on 427-0591 or Brian Turnquest on 242-359-1010
Red Cross
The Bahamas Red Cross Society is seeking donations of rice, tuna, peanut butter, oatmeal, canned spaghetti, jams, flour, sardines, corn beef, sugar, fruit cups, evaporated milk as well as other non-perishable items, as well as furniture and bedding. They are accepting collections at JFK on Sunday until 4pm.
Monetary donations can be deposited at A/C #289-423-6 at the Royal Bank at John F Kennedy Drive. For more information, call 323-7370.
Ultimate Door and Window
The Cartwright family is accepting donations for Long Island – listing water, toiletries, food, feminine products, clothes, tarps etc – which can be dropped off to Ultimate Door and Window until Tuesday. Specialised packages for friends and family in Long Island can be given to Bianca Cartwright, Brandon Cartwright, Gavin Cartwright, Michael and Cynthia Cartwright and they will get it to Long Island and to those individuals. DeAndra Cartwright asked for items for her grandmother, Lorene Cartwright, who has lost her house, and her grandfather and aunt, Archie and Bonita Moree in The Bight. However, general donations rather than specific ones are easier to transport, organisers said.
Ultimate Door & Window is located behind the Auto Mall on Shirley Street across from St. Matthew's Anglican Church. Contact numbers are 424-8602, 422-3926 & 457-3546.
Mario's Bowling
Mario's Bowling and Family Entertainment Palace is inviting people, organisations, charities and groups who wish to donate food, clothing or supplies of any kind, to bring them to Mario's at Summer Winds Plaza on Sunday from 3pm until 9pm and throughout the week from 9am to 10pm.
Mario's will be a distribution point and an outlet. The facility and surrounding spaces are available for use.
Kiwanis Clubs of The Bahamas
The Kiwanis Clubs have called for donations to be brought to Bahamas Hotel Catering and Allied Workers Union at Workers House, Harold Road, Nassau.
Emergency needs are water, non-perishable food items, first aid supplies, batteries, flashlights, tarps, garbage bags, gloves, toilet paper, paper towels, matches, pet food, two-way radios for first responders, baby formula, baby diapers, manual can openers, paper cups, plates and plastic utensils. Secondary needs are clothing, tools, cleaning supplies, mattresses, linens and radios.
The Kiwanis Clubs are partnering with Eastern Canada and Caribbean District of Kiwanis International, Sky Bahamas, Stanford Trucking, Deketa Designs, Bahamas Hotel Catering and Allied Workers union and Asue Draw.
For more information, contact Alfred Poitier on 424-2227.
Freeport donations
For those in Freeport looking to give donations in support of the Joaquin relief effort, a 40-foot container will be situated at Control Chemicals on Monday.
Sponsors Eddie Whan and Justin Snisky called for people to drop off bottled water and non-perishable food items for inclusion. Mr Whan said: "My family and I will pay all freight costs to get the container from here down to whatever island is in the most need."
For further information, contact Mr Snisky on 727-4888 or Mr Whan on 727-4165.
Abaco donations
In Abaco, members of the community are rallying round to send supplies to help with the relief effort.
Chelsea's Choice in Abaco has two 20ft shipping containers, supplied by Bahamas Fast Ferries, and is donating bottled water, as is Fredericks Agency/Alburys Trucking.
They are accepting non-perishable food items and toiletries to be loaded into the containers throughout Sunday.
Hope Town Fire Rescue is flying a relief mission to Rum Cay on Sunday where they will also conduct a damage assessment for NEMA. They will be taking a portable gasoline pump and equipment to help residents pump salt water from their cisterns, and as many essential supplies as they can fit in the aircraft.
Supplies are being donated by Chad Sawyer and Zig-Zag is donating the fuel.
A drop-off point has now been set up in Fort Lauderdale at FXE for Bahamas hurricane relief supplies.
Tarpaulins are urgently needed along with priority supplies of bottled water, non-perishable food items, hand sanitisers or wipes, batteries, flashlights and tools.
Boxes should be marked with Hurricane Relief and the island you would like the supplies to go to.
The location is World Jet East: 1020 NW 62nd St, Fort Lauderdale, FL 33309. Contact 722-7444 for pilot Edward Hinckley/N242EB.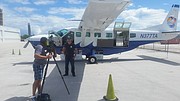 Tropic Ocean Airways
In support of Hurricane Joaquin relief efforts, Tropic Ocean Airways a Fort Lauderdale based wheeled and seaplane airline will be flying supplies out today to affected locations. They will base an aircraft in the Bahamas and will be distributing supplies throughout the week via seaplane to less accessible areas. Supplies can be sent to Tropic Ocean Airways at Sheltair Aviation in Fort Lauderdale. The team is calling for any supplies or funds that people can contribute. Vital supplies include water, non-perishable food items, first aid supplies, toilet paper, paper towels, matches, pet food, baby formula and diapers. Contact the team at Tropic Ocean Airways by Phone: 1-800-767-0897 Email: reservations@flytropic.com Web: FlyTropic.com for more information.
College of the Bahamas
COB has advised that normal operations and classes will resume at the Northern Bahamas, Grosvenor Close and Oakes Field campuses, including the Harry C Moore Library and Information Centre and Chapter One Bookstore on Monday.
Family Island students are asked to contact the Campus Life Department at 302-4525 if they have received information that family members are in need of assistance in the aftermath of Hurricane Joaquin. COB and several volunteer organisations are mobilising teams to travel to the impacted islands to render aid.
Old but functional cellphones are being collected until 7pm today in Grand Bahama, at The Fitness Connection in the Circle Mall. Any other small items that may be useful would also be appreciated – such as batteries (AA or AAA), matches, lighters, chargers and phone cards. The items will be taken to San Salvador tomorrow.
An online fundraising campaign has been set up to help Long Island by a native of the island, Chuck Fox. The goal is to raise $100,000 in 60 days. Mr Fox said: "My hometown, Long Island, Bahamas, has been devastated by the recent hurricane, Joaquin. There has been extensive damage to houses and extensive damage to houses and properties. Many homes have been completely destroyed or flooded.
"There are many people who are in need of aid and need necessities like food, water, clothing and many other needs.
"There has been tremendous outpouring of support to the island and I am doing my part by receiving donations online to a crowd funding account. In just two days, I have received over $1,400 in donations from people around the country and internationally.
"All funds raised by this campaign will go towards purchasing supplies, food, water and other necessary items. I will personally purchase these items myself and ship to the island and oversee distribution when it gets there. I can assure all funds will be used to help my island."
Donations can be sent to https://www.indiegogo.com/projects/long-island-bahamas-hurricane-joaquin-relief.
People in Florida who wish to donate can do so with the help of Island Imports. A statement from the company said: "The Island Imports Family extend our condolences and support to the residents of the Southern Bahamas affected by Hurricane Joaquin. Our thoughts and prayers are with you all.
"We are assisting the relief effort by offering our warehouse in Fort Lauderdale for any donations and supplies you wish to send to The Bahamas. We will be working in conjunction with the Cargo Charter Operations in South Florida for the delivery of the sent items."
The company's offices are open Monday-Friday at Island Freight Forwarders, 1810 NW 51st Place, Suite 40A, Fort Lauderdale, FL 33309. For more information, contact 954-235-7318 or 954-681-4481 in Fort Lauderdale or 356-6733 in Nassau.