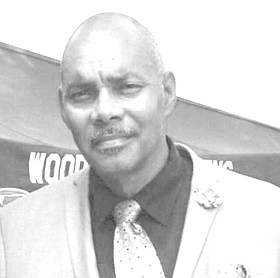 LEEVAN "Dragon" DAVID SANDS
unknown - unknown
LEEVAN DAVID "Dragon" SANDS, 63
a resident of West Winds, West Bay Street, will be held at Hillview Seventh Day Adventist Church, Tonique Williams Darling Highway, on Sunday, March 8, 2020 at 12 noon. Officiating will be Dr. Paul Scavella and Dr. Michael Toote, assisted by Dr. Peter Joseph, Pastor Hugh Roach, Elder Harrison Moxey & Elder Todd Beneby. Interment follows in Lakeview Memorial Gardens, John F. Kennedy Drive.
Left to cherish Leevan's fond memories are his Wife of 39 years: Former Superintendent of Police Elaine Sands; Children: Leevan Jr., D'Angelo, Vandia and Bria Sands; Daughters-in-law: Danielle and Janelle Sands; Grandchildren: D'Angelo Jr., Leevan III, Jaden, Lion and Legend Sands; Parents-in-law: Edmund and Geraldine Lewis; Sisters: Mizpah Darville, Geneva Smith, Doreen Smith, Shirley Nottage, Annamae Clarke, Assistant Superintendent of Police Betty Bodie, Antoinette Saunders, Laverne Sands, Karen Rahming (Gregory) and Natasha Gaye (Valentino); Brothers: Bradley Smith, Rudy Sands (Althea), Roger Sands (Queenie), Jeffery Sands, Ricardo Sands (Charmayne) and Addison Sands; Sisters/Brothers-in-law: Keith & Deidre Ferguson, Sandra Gaitor, Deidre, Brent, Theresa and Carolyn Deveaux, Edmund Jr. & Janae Lewis, Osborne & Latoya Moxey, Tiwian & Melissa Hanna, Dwayne, Ross, Edmund, Don, Dion, Dwayne, Trudeau, Anethria Lewis, Lenny & Patrice Rolle, Conrad and Denika Symonette and Debbie Ewing ; Aunts and Uncles: Menera Hall, Keith and Daphne Barr, Samuel, Roderick, Dudley, Tony, Brian and James Lewis, Inez McKenzie, Llewllyn and Rev. Roslyn Astwood, Clifford Schroeter, Bernadette Lewis, Patricia Thompson, Deborah Sands, Linda Major, Brenda Lewis, Ethlyn Caple, Dorothy Roberts, Laurial and Ella Lewis, Cecile Brown, John Gardiner and Ruby Bethel; Nieces and Nephews: Sandra Gray, Tory & Yvette Adderley, Dion and Delarese Nottage-Beneby, Joletha Nottage, Andrew Bowe, Bradley Smith Jr., Antoinette Rolle, Drexel Smith, Darren Rollins, Raquelle Charlton, Phillippa Smith, Cleophius Clarke, Arthur & Michelle McDonald, Bernard, Bercario and Brandon Bodie, Sonia Rahming, Denise Hepburn, Omar & Tamara Edwards, Christina Pratt, Jeffery Sands Jr., Jeremy Sands, Joshua Sealey, Perry & Shenica Moss, Denzel & Nikia Capron, Vanessa Smith, Cassandra Brenston, Celicia Knowles, Bradford, Deon, Eric, Derek, Nathan and Rudy Sands Jr., Anastacia Anderson, Cherese and Cherene Smith, Ciji Neely, Shavonne Smith, Jorvon & Keisha Sands, Leonardo, Tjean and Linford Sands, Alvashan and Alvanique Gaitor, Teran and Brian Rahming, Shantavia, Sharelle, Stacy, Samantha, Keith, Keithrelle and Keidre Ferguson, Danielle Capron, Tamika Dean, Nerissa Butler, Krisna and Andrel Saunders, Davonte, Deondre and Drashae Gay, Ricardo Jr. and Ashley Sands, Gregory Jr., Zaria and Brianna Rahming; Cousins: His Excellency Cornelius A. Smith and his wife Shirley Smith, Stephen Greenslade, Clayton, Alvin and Cornelia Smith, Roscoe, Dylan, Tina, Brian, Clive, Raina, Ashlee, Ellison, Michael, Jeno, Juanita, Deavalo & Tia, Jacqueline, Fernerin, Ellsworth, Charles Sawyer, Scott and Jackie, Alia, Alvin, Sebastian, Anishka, Kelson, Ebony, Eddie, Vernell, Emily, Beatrice, Florence, Rose, Gaylene, Tanya, Lamont, Llewllyn, Laron, Kim, Ethel, Sheila, Lavardo, Carrington, Katrinka, Agnes, Evaneth, Leslyn, Nasmoon, Jack, Kesna, Adelicia, Vasco, Ron, Shandy, Brandon, Keith Jr., Rory, Jamal, Sherry, Kenya, Philly, Danielle, Demarco, Anwar, Toniya, Tonique, Brannishka, Troy, Seanray, Stacey, Juankah, Latrell, Latoya, Precious, Granville, Ariel, Shantese, Cheyanne, Alex, Rishard & T'Shae and Christophe; Numerous: Grand nieces/nephews, great grand nieces/nephews and other family and friends, inclusive of Dr. Tyrone Bartlett, Walnut Street Family, Chelsea's Choice Staff, Centerville Church Family, Police Traffic Cyclist Family and all of the doctors and nurses that gave support.
Friends may pay their last respects at Demeritte's Funeral Home, Market Street, from 9:00 a.m.-4:00 p.m. on Saturday & on Sunday at the church from 11:00 a.m. until service time.