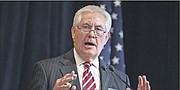 PRESIDENT elect Donald Trump's pick for US secretary of state has been revealed to be the director of a US-Russian oil firm based in this country, according to international reports.
The UK Guardian reported that Rex Tillerson, the man Mr Trump has nominated for the important diplomatic post, has been tied to ExxonMobil's Russian subsidiary, Exxon Neftegas, since 1998, according to a leaked document.
The article also refers to the Bahamas as a "tax haven."
Mr Tillerson is chief executive of ExxonMobil.
"The leaked 2001 document comes from the corporate registry in the Bahamas," the Guardian reported. "It was one of 1.3m files given to the German newspaper Süddeutsche Zeitung by an anonymous source. The registry is public but details of individual directors are typically incomplete or missing entirely.
"Though there is nothing untoward about this directorship, it has not been reported before and is likely to raise fresh questions over Tillerson's relationship with Russia ahead of a potentially stormy confirmation hearing by the US Senate Foreign Relations Committee," the report said.
Those who have been critical of Mr Trump's nominee argue that Mr Tillerson has close ties to Russian President Vladimir Putin.
Last week, US President Barack Obama said America will retaliate against Russia in the face of evidence from US intelligence agencies that Russia engaged in hacking in an attempt to influence the November election.
Russia has called for concrete evidence to substantiate this claim.