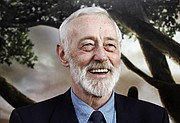 By LYNN ELBER, AP Television Writer
LOS ANGELES (AP) — John Mahoney, who as the cranky, blue-collar dad in "Frasier" played counterpoint to pompous sons Frasier and Niles, has died at age 77.
The actor died Sunday in Chicago after a brief hospitalization, Paul Martino, his manager for more than 30 years, said Monday. The cause of death was not immediately provided.
In "Frasier," the hit "Cheers" spinoff that aired from 1993 to 2004, Mahoney played Martin Crane, a disabled ex-policeman who parked himself in a battered old armchair in Frasier's chic Seattle living room.
Martin's beloved dog, Eddie, also took up residence to annoy Frasier, played by Kelsey Grammer.
Mahoney, a British native who made Chicago his home town, was a two-time Emmy nominee for "Frasier" and won a 1986 Tony Award for "The House of Blue Leaves."
His recent credits included a recurring role as Betty White's love interest on "Hot in Cleveland" and a 2015 episode of "Foyle's War."