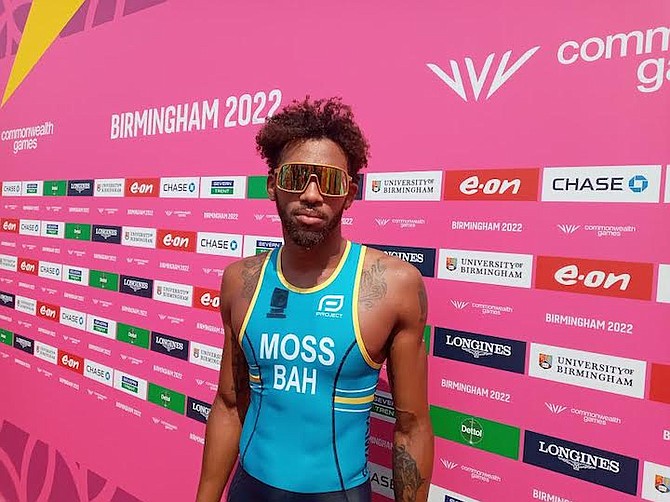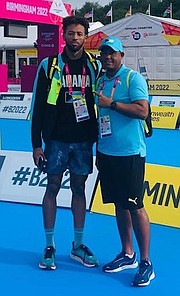 By BRENT STUBBS
Senior Sports Reporter
bstubbs@tribunemedia.net
BIRMINGHAM, England: Former swimmer turned triathlete Armando Moss celebrated his 30th birthday on Friday with a 38th place finish in the men's individual sprint distance final of the triathlon at Sutton Park.
In the first final contested by the Bahamas' 28-member team at the games that will run through August 7, Moss clocked one hour, seven minutes and 26 seconds to trail Jamaica's Phillip McCatty, who did 1:06.43 and edged out Mark Ofosu of Ghana in 1:09.31.
Alex Yee topped the field of 44 competitors who finished the course to snatch the gold for host country England in 50.34, while Hayden Wilde of New Zealand had to settle for the silver in 50.47 – Australia's Matthew Hauser claimed the bronze in 50.50.
For Moss, competing in his first global competition, it wasn't what he had anticipated, but it sure beat sitting behind the desk at Price Waterhouse in Cincinnati, Ohio where he would have been performing his duties as an advisory manager specialising in financial due diligence.
"The first one at this level was a bit shocking, but also exciting at the same time," Moss said. "I was surprised how aggressive the guys were in the water. They were all punching and kicking in the water. I wasn't expecting that.
"I also wasn't expecting it to be that fast because with swimming being my forte, I honestly was taken aback how fast the guys went out. But I messed up my strategy a bit. I went out a little faster than I should have in the water and my legs got cramped up. Overall it was amazing experience and I wouldn't want to spend my 30th birthday any other than way than doing this today."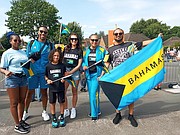 Cameron Roach, who served as the coach for Moss, said it was an amazing day for the former swimmer who only started competing in the sport for about a year and a half and earned the rights to represent the Bahamas by winning the Bahamas Triathlon Association's National Championship title at Jaws Beach in May.
"It was am amazing day for Armando," Roach said. "I think he did a very good job. He was racing against some of the best triathletes in the world and I think he did a very good job for his first time competing at this level."
And just as quickly as that, his appearance at the games is done, but Moss said he will definitely take some time to share the rest of his experience here with his family members, including his son, Armando Moss Jr, his mother Pamela Moss, Denez Moss, Sarah Brown, Levar Peterson and Felicia Alphonso, who all traveled from the Bahamas, Cincinnati, Ohio and Pennsylvania to cheer him on.
A full report on Moss' performance will be published in The Tribune on Monday.