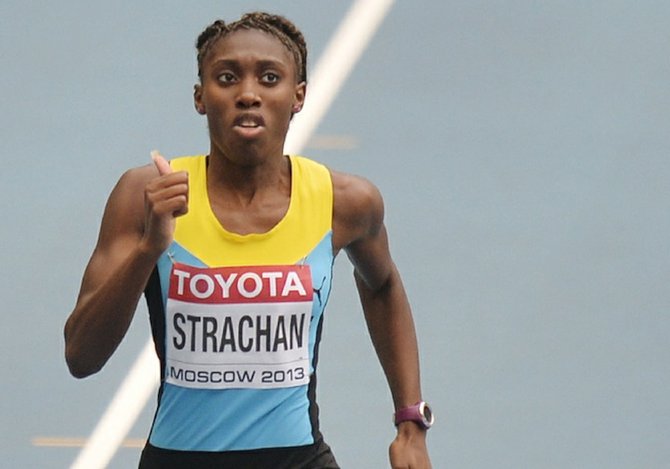 Anthonique Strachan
Stories this photo appears in:
NOW that she's done with the surgery for a "sports hernia," sprinter Anthonique Strachan said she's eager to get back on the treadmill and start her training again so that she can be ready to compete at the 2016 Olympic Games in Rio de Janeiro, Brazil.
IT has been a busy few weeks for Bahamian sprinter Anthonique Strachan and she capped this past weekend with her third race on the Diamond League Circuit.
THE International Amateur Athletic Federation's Diamond League started on Friday in the Qatari capital of Doha with Bahamian sprinter Anthonique Strachan and hurdler Jeffery Gibson picking up a third and fifth place respectively in their signature events.
ANTHONIQUE Strachan raced to a fourth place finish in the women's 200 metres, while Chris 'the Fireman' Brown and the men's 4 x 400 metre relay team had to settle for third place as the Americas team relinquished their title to Europe as the 12th IAAF Continental Cup came to a close on Sunday.
WHILE male sprinter Warren Fraser capped off a long year by running his second fastest time in the 100 metres this year at the Rieti 2014 - International Amateur Athletic Federation (IAAF) World Challenge Meeting on Sunday at the Stadium Raul Guidobaldi in Rieti, Anthonique Strachan got tuned up for the IAAF Continental Cup this weekend.