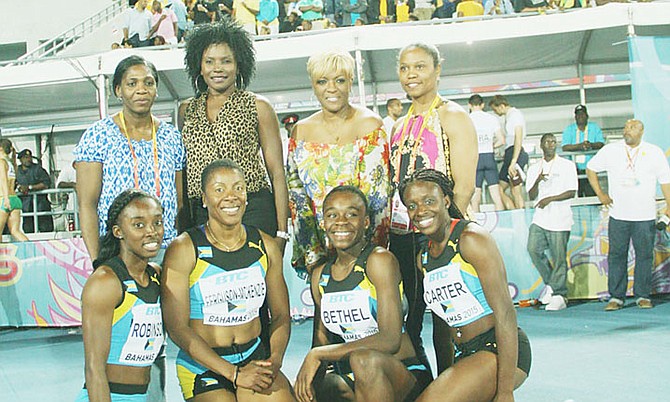 PASSING ON THE BATON: Standing (l-r) are 'Golden Girls' Sevatheda Fynes, Pauline Davis-Thompson, Eldece Clarke and Chandra Sturrup. Kneeling (l-r) are V'Alonée Robinson, Debbie Ferguson-McKenzie, Brianne Bethel and Tayla Carter during the 2nd IAAF/BTC World Relays at Thomas A Robinson National Stadium May 2-3, 2015.
Photo by Raymond A Bethel Sr/BIS

Stories this photo appears in:

The 'Golden Girls' were introduced to the fans during the start of the IAAF/BTC World Relays Bahamas 2015. At the end of the two-day event, they were present to greet some of the new competitors who are expected to carry on their legacy for the Bahamas in the female sprints.