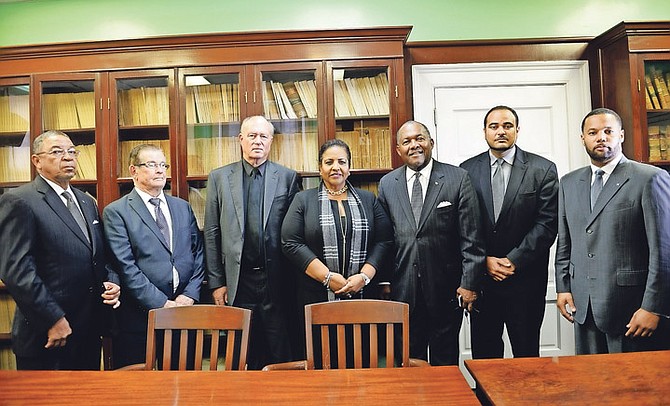 (L-R) Hubert Chipman, MP St. Anne's; Edison Key, MP Central and South Abaco; Richard Lightbourn, MP Montagu; Loretta Butler-Turner, MP Long Island, Neko Grant, MP Central Grand Bahama; Theo Neilly, MP North Eleuthera and Andre Rollins, MP Fort Charlotte. Photo: Shawn Hanna
Stories this photo appears in:

THE seven "rebel" Free National Movement MPs who ousted Dr Hubert Minnis as leader of the official Opposition in Parliament have called plans to expel them from the party "absurd" and "perverse".

THE Free National Movement (FNM) has charged the "rebel seven" Parliamentarians with action that has brought the party into "disrepute, division, rancor and dishonour," according to a letter about disciplinary proceedings obtained by The Tribune.

IN A bold move that stunned Parliament, seven Opposition MPs submitted a letter of no confidence in Free National Movement Leader Dr Hubert Minnis to both House Speaker Dr Kendal Major and Governor General Dame Marguerite Pindling yesterday, revealing that a vote was taken among them for Long Island MP Loretta Butler-Turner to be the new Official Opposition Leader in the House of Assembly.