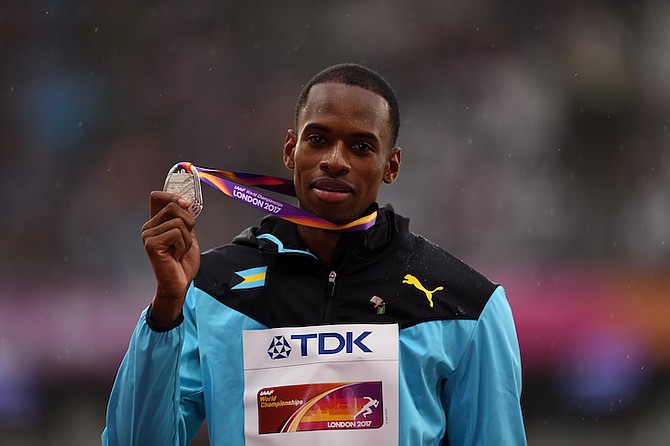 SILVER MEDAL: Steven Gardiner. Photo: Kermit Taylor/Bahamas Athletics
Stories this photo appears in:
FROM the track to the front office to the field and to some discussions and decisions behind the scene, the Bahamas had another eventful year.Here's a recap of how the top stories unfolded over the past 12 months.Quarter-milers Reign SupremeThe Inter
It was a year of career-defining moments for the country's premier quarter miler, highlighted by a new 400m national record and his first individual medal at a major international event.
Even though it wasn't the finish that he anticipated, men's 400 metres national record holder Steven Gardiner said he's still pleased with the way 2017 turned out for him. Now he's looking forward to expanding his horizons in 2018 as he will contempl

LONDON, England: With his body taking a toll after his gruelling three rounds that culminated with a silver medal in the men's 400 metres, Steven Gardiner said he informed the Bahamas management team that he would need more time to recover so he could run in the final and not the heats of the 4 x 400m relay.
LONDON, England: When the relays get underway, a couple of young Bahamians, joining some of their veteran counterparts, will be eager to make their debut at the 16th IAAF World Championships this weekend inside the Queen Elizabeth Olympic Stadium.
LONDON, England: All of Steven Gardiner's sacrifices and accomplishments this year, and a crucial coaching change, culminated in the 400m silver medal he received on Wednesday night at the 16th IAAF World Championships."It's finally sinking in and I