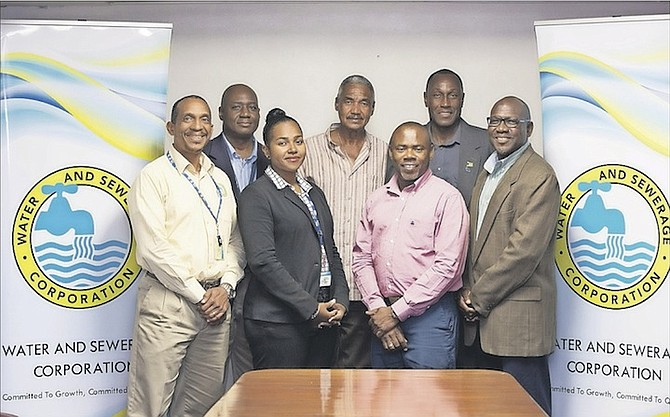 WSC Chairman Leslie Miller signed an Engineering Services Consultancy (ESC) contract with ACO JV (Bahamas) Litd for the construction supervision of the CDB Water Supply Improvement projects. Pictured during the signing are (back, from left), Leslie Hutchinson, WSC Project Co-ordinator; Mr Miller; and Raymond McKenzie, ACO JV (Bahamas) Lead Partner. Front (from left) are Glen Laville, WSC General Manager; Ayla Isaacs, WSC Project Manager Infrastructure; Dennis Nairn, ACO JV (Bahamas) Partner; and Mario Bastian, ACO JV (Bahamas) Partner. Photo: BVS Bahamas
Stories this photo appears in:

The Water and Sewerage Corporation (WSC) is continuing to undertake a series of water supply improvements on several Family Islands.