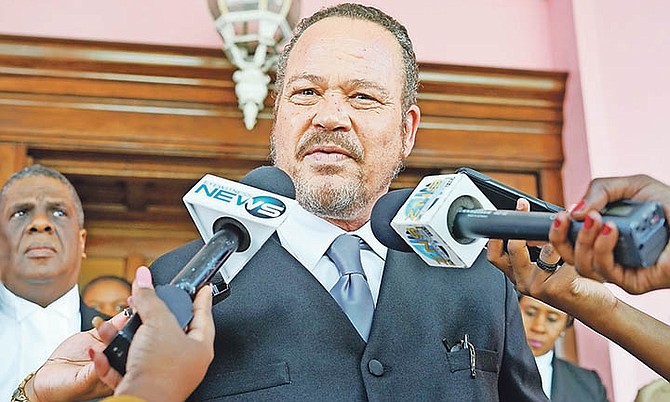 Carl Bethel QC, Attorney General. Photo: Terrel W Carey/Tribune Staff
Stories this photo appears in:

ATTORNEY General Carl Bethel yesterday said that the government "will prevail" in the courts against injunctions filed to stop the demolition of shanty towns in the country.

ATTORNEY General Carl Bethel has confirmed that Cabinet had authorised Law Reform Commissioner Dame Anita Allen to release the proposed Nationality, Immigration and Asylum Bill 2018 for consultation.

THE LATEST iteration of the stalled Non-Profit Organisations Bill features a simplified registration form and allows for umbrella organisations and federations to register on behalf of affiliates.

The attorney general yesterday slammed as a "false parallel" suggestions that the web shop industry's tax hikes will violate the European Union's (EU) anti-tax evasion demands.

The Attorney General yesterday warned the web shop industry it was "time for lawful taxes to be collected", and said of the Government's stance: "We're ready to go to war."

Grand Bahama Power Company's now-expired East and West End electricity supply agreements are under review by the Attorney General's Office, Tribune Business can reveal.

The attorney general has revealed he was only made aware of alternative legislation to regulate Bahamian non-profits days before the current bill was due to be passed by Parliament.

ATTORNEY General Carl Bethel has presented the Progressive Liberal Party with a draft bill seeking to regulate the campaign finances of political parties, the beginning of a process that could transform politics in the country.

The Attorney General yesterday expressed hope that the US and UK will "withdraw or soften their advisories" against The Bahamas after its "great leap forward" in fighting financial crime.

The attorney general will today unveil "the first positive news for financial services in a decade" by revealing that The Bahamas' compliance with global anti-financial crime standards has been upgraded.

THE government's bid to utilise $41.3m from dormant bank accounts to set up a disaster relief fund is one step closer to law, after the Senate yesterday voted in favour of both the Bank and Trust Companies Amendment Bill and the Central Bank of the Bahamas Amendment Bill.