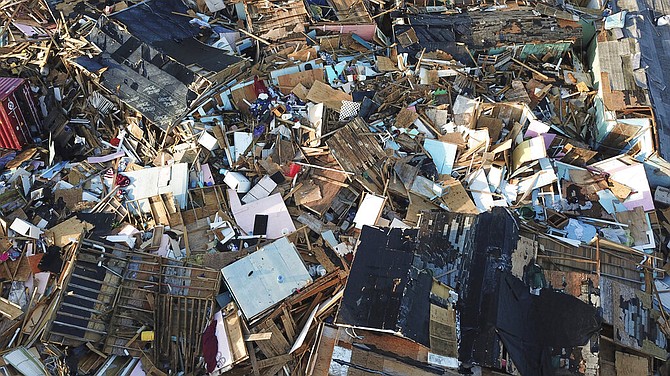 Homes in ruins one week after Hurricane Dorian hit The Mudd community in Abaco. (AP Photo/Fernando Llano)
Stories this photo appears in:
In the wake of Hurricane Dorian, a great deal of public conversation has focused on the injunction prohibiting demolition of communities of Haitian ethnicity called shanty towns.
MANY displaced residents of The Mudd and Pigeon Peas shanty towns are wedged between a rock and a hard place because Haiti is in no position to accept them and their homes in Abaco have been completely wiped out.
ADDITIONAL manpower will be requested to monitor Abaco shanty towns to ensure there are no further attempts to build or erect structures for residential or commercial use.The statement came from Captain Stephen Russell yesterday, a day after governme
A NEWLY formed Haitian advocacy group said it has forwarded the names of more than 300 people listed as missing from shanty towns in the aftermath of Hurricane Dorian. The group, United Haitian Community Front, is chaired by League of Haitian Pastor
THE government has no intention of granting provisional asylum to undocumented migrants nor does it plan to meet with Haitian officials at this stage over concerns that have emanated in the wake of Hurricane Dorian.This is according to Immigration Mi
THE chaos that gripped Marsh Harbour in the wake of Hurricane Dorian has subsided, and for those who remain, a new fight for survival begins.