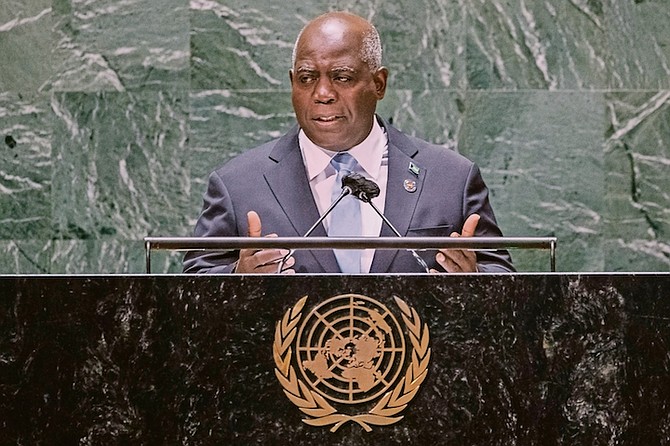 Prime Minister Philip "Brave" Davis addresses the 76th Session of the UN General Assembly at the United Nations headquarters in New York. Photo: Eduardo Munoz/AP
Stories this photo appears in:

ON September 25, Prime Minister Philip Brave Davis addressed the General Debate of the 76th Plenary Session of the United Nations. Still in the victory lap of his party's win at the polls and assumption of the reins of governing a country with more needs than money to meet them, he spoke for 16 minutes and some seconds with real conviction, delivering a message that should not be lost on the Bahamian people.

PRIME Minister Philip "Brave" Davis called on world leaders to ensure vaccine equity and to take concrete steps to address climate change, which adversely affects small island developing states like The Bahamas.

PRIME Minister and Minister of Finance Philip "Brave" Davis said his administration is "assessing" the country's debt arrangements and will seek to negotiate where necessary to avoid default.