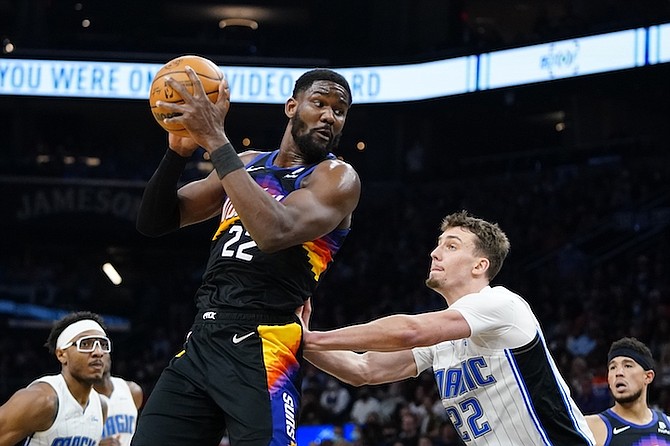 DEANDRE Ayton in action.
Stories this photo appears in:

Centre Deandre Ayton, who was embroiled in contract talks with the Phoenix Suns and a heated clash with former head coach Monty Williams, has been traded to Portland, becoming the second Bahamian to play for the Trail Blazers.

Phoenix Suns centre and Bahamian National Basketball Association (NBA) player Deandre Ayton could see his talents maximised once again this upcoming NBA season. There is a newfound optimism surrounding the Bahamian centre after the team hired Frank Vogel as their new head coach following the firing of previous coach Monty Williams after the playoffs. The team was ousted from the 2023 NBA playoff semifinals after the Denver Nuggets defeated them in a 25-point blowout win to end their season.

Deandre Ayton remains the biggest restricted free agent on the market and is just hours away from finding out whether he will have a new NBA home alongside "Buddy" Hield in Indiana or return to the Phoenix Suns.

The NBA free agency period begins in earnest today (see sidebar) and the contract situation between Deandre Ayton and the Phoenix Suns remains one of the most speculated on the market.

DEANDRE Ayton's free agency speculation continues to make the media rounds and his agent offered public comments for the first time this offseason on the developing situation between the former top pick and the Phoenix Suns.

A piece of jewellery flashing the area code of The Bahamas and the colours of the Bahamian flag is just one of ten things NBA star Deandre Ayton can't live without.