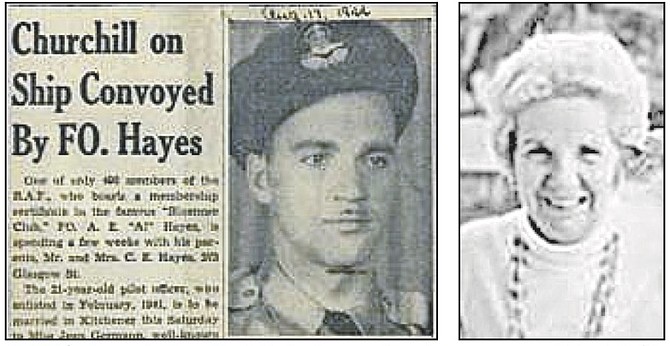 AL HAYES, above, gained attention for having been an aviator chosen to escort a ship in which Sir Winston Churchill was making towards high-level diplomatic talks. His wife Jean Isobel Germann Hayes (later Robinson) was born in Waterloo, Ontario, and along with her siter Louise was always an avid musician; "She grew up in a household full of music; Jean and sister Louise inherited their father's wonderful musicality. She married her high school sweetheart, Allan Hayes in 1944 and moved to Nassau where he was based [as] an R.C.A.F. Flying Officer…." Credit: Right: 2015 obituary, generations.regionofwaterloo.ca, and legacy.com/obituaries/theprovince/obituary.
Credit: For Allan Hayes, his nephew Geoffrey Hayes in Canada, and he and Vivian Cribbes Guerra, at sites.google.com view/ georgederykcribbes/allan-al-hayes
Stories this photo appears in:

THE build-up of New Providence into the hub of all South Atlantic air deliveries to the Allies in Africa, the Mediterranean, Middle and Far East was sudden, yet the nation's air hub was built as Windsor Field for the RAF Ferry Command, and to support the RAF Transport Command, the No 113 Transport Wing instructors who trained over 7,000 students for the front, and to deliver over 9,000 aircraft to Africa.