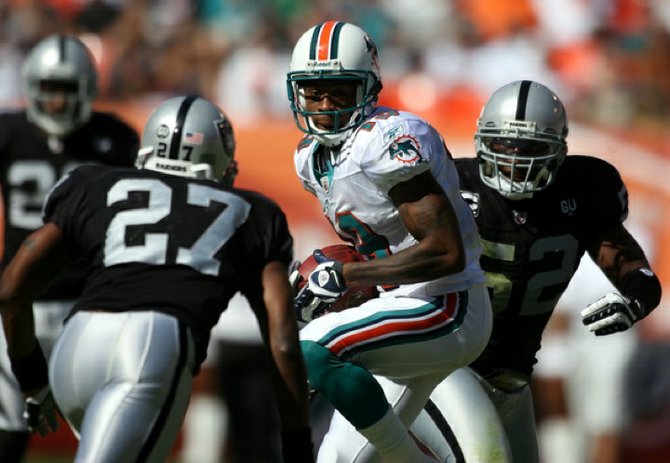 By STEVEN WINE
AP Sports Writer
MIAMI (AP) -- Even with his team losing badly, Oakland Raiders linebacker Aaron Curry had to smile.
He broke up a fourth-quarter pass with a jarring hit on Reggie Bush, who responded by rolling over onto his stomach and doing five pushups. Curry laughed and shook his head at the resilience of Bush and the Miami Dolphins.
"They just flat-out beat us," Curry said.
Once-woeful Miami won for the fourth time in the past five games Sunday by beating Oakland 34-14. The Raiders were outgained on the ground 209 to 46, had the ball for less than 22 minutes and gave up two TDs in a 20-second span.
"We just got outplayed in every phase of the game," said Carson Palmer, who threw for the Raiders' scores after they fell behind 34-0. "We got physically beat. It's very discouraging, very disappointing."
Bush ran for 100 yards and a touchdown, Matt Moore had a hand in two TDs and Kevin Burnett returned an interception 34 yards for Miami's final points.
The Raiders (7-5) fell into a tie with Denver atop the AFC West. The drubbing ended their three-game winning streak.
"We couldn't run. We couldn't stop the run. We didn't pass very well," coach Hue Jackson said. "Just a bad day at the office."
The loss took a little luster off Oakland's next game against unbeaten Green Bay.
The Raiders fell to 6-25 in regular-season games in the Eastern Time Zone since December 2002, and by the third quarter their frustration was evident.
Defensive tackle Richard Seymour was ejected for throwing a punch as the Dolphins drove for the score that put them up 27-0.
"I apologise to the team, to our players and to Raider nation," Seymour said. "I wasn't there to finish the game with my teammates."
Raiders linebacker Rolando McClain played three days after he was arrested on misdemeanor assault, firearms and other charges in his Alabama hometown. He made eight tackles, but that wasn't nearly enough to slow Miami.
"We didn't play well. That's on me," Jackson said. "It's not about coming to the East, and it's not about anything that happened this week. It's my fault. I didn't get them ready."
The Dolphins (4-8) are surging after they lost their first seven games. In the past five weeks, they've outscored opponents 139-54, with the lone loss a one-point defeat at Dallas on Thanksgiving.
"We've been on a wild ride here," Moore said.
Miami -- a team that totalled four touchdowns during one five-game stretch -- secured the victory with a 21-point third quarter.
Miami scored twice before Oakland had a first down. The Raiders' best starting position all day was their 28-yard line, and they went 2 for 11 on third down.
Clyde Gates returned the second-half kickoff 77 yards, and two plays later Bush scored on a 1-yard run for a 20-0 lead.
Moore capped a 91-yard drive by scoring on a 6-yard keeper. Miami struck again when Burnett intercepted a tipped pass, weaved upfield and dived across the goal line. It was the third interception returned for a score against Oakland this year.
Palmer went only 20 for 41 despite throwing scoring passes of 40 yards to T.J. Houshmandzadeh and 3 yards to Darrius Heyward-Bey.
"They meant nothing," Palmer said.
Last play FG gives Packers
38-35 win over Giants
EAST RUTHERFORD, N.J. (AP) -- The Green Bay Packers are still perfect and heading to the playoffs.
Aaron Rodgers engineered a last minute drive to set up a 30-yard field goal by Mason Crosby on the final play and the Green Bay Packers remained undefeated and clinched a playoff berth with a 38-35 victory over the New York Giants on Sunday.
Rodgers hit three passes of more than 18 yards on the drive in the final 58 seconds as the Super Bowl champion Packers (12-0) won their 18th straight game and handed the Giants (6-6) their fourth straight loss.
Plenty to talk about with
Chargers-Jaguars matchup
JACKSONVILLE, Florida (AP) -- Even with two losing teams that are all but eliminated from playoff contention, there is no shortage of story lines for Monday night's game between slumping San Diego and reeling Jacksonville.
The Chargers (4-7) have lost six in a row after an uncharacteristically fast start. Philip Rivers has more turnovers through 11 games than he had in any of his previous seven seasons. His makeshift offensive line probably will be without left tackle Brandyn Dombrowski, who has been filling in for injured Pro Bowler Marcus McNeil. And speculation about coach Norv Turner's future has become more prevalent than talk about a new stadium.
The Jaguars (3-8) have endured the newsiest week in the franchise's 17 seasons. Owner Wayne Weaver fired coach Jack Del Rio on Tuesday and announced he has agreed to sell the team. He also gave general manager Gene Smith a three-year contract extension, putting him in charge of the coaching search.
Texans beat Falcons for
sixth straight win, 17-10
HOUSTON (AP) -- Apparently, it's going to take more than injuries to star players to derail the Houston Texans. Rookie T.J. Yates threw a touchdown pass in his first NFL start, Arian Foster rushed for 111 yards and Houston overcame another injury to Andre Johnson to beat Atlanta 17-10 on Sunday.
The Texans (9-3) have won a franchise-record six straight games, a remarkable feat considering they're down to their third-string quarterback and have played the bulk of their streak without their star receiver.