By NEIL HARTNELL
Tribune Business Editor
BAHAMAS Customs has been accused of employing "Gestapo tactics" by spying on Grand Bahama Port Authority (GBPA) licensees to determine if they are using so-called 'bonded vehicles' correctly, a leading attorney suggesting it was another effort "to break the Hawksbill Creek Agreement".
Fred Smith QC, the Callender's & Co attorney and partner, told Tribune Business that 30 different GBPA licensees had complained to him about Customs 'spying' on them to determine if they were using their 'bonded vehicles' only in the conduct of their business. Such vehicles are imported into Freeport duty-free provided they are only used in the GBPA licensee's business.
Arguing that Customs was using "an inappropriate interpretation of the Hawksbill Creek Agreement" to justify its latest actions, Mr Smith questioned whether it was worth harassing GBPA licensees and "constipating" Freeport's free trade zone philosophy for the sake of collecting a relatively minimal duty sum.
Suggesting that Customs would fail to generate the desired return on its latest strategy, possibly only an extra $100,000 in duties, Mr Smith told Tribune Business this sum "pales into insignificance" when compared to the $100 million Freeport generated for the Public Treasury annually.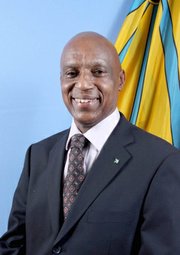 "What they've [Customs officers] discovered has been happening is that there have been a number of persons that have become licensees, and may be part-time entrepreneurs."
GLENN GOMEZ
But Customs Comptroller, Glenn Gomez, told this newspaper that his officers were merely enforcing the law, and that bonded privilege abuses by Freeport residents and businesses were "cropping up all the time".
As revealed by Tribune Business last week, Mr Gomez said Customs had discovered that many Freeport residents, who were either self-employed or had part-time businesses - and had imported duty-free bonded vehicles for this purpose - were also using them to drive to/from their primary job.
"What they've [Customs officers] discovered has been happening is that there have been a number of persons that have become licensees, and may be part-time entrepreneurs," Mr Gomez said.
"They may do business in a particular area for two days a week, and have another job not under their licence. They would have imported a vehicle to do business in their part-time enterprise, but are using that vehicle in an enterprise not covered by that licence."
As a result, vehicles were "not really being used for bonded purposes". Mr Gomez said other persons had complained to Customs about this, arguing that part-time entrepreneurs were abusing their 'bonded vehicles' in this manner and gaining an unfair competitive advantage.
"It seems to be growing. I guess once one person does it, the word gets around," Mr Gomez said of Customs' current issues with bonded vehicles. He added that, from the Department's perspective, 'abuse' of bonded vehicles created further problems by giving persons access to 'duty free' gasoline despite not working in their 'licensed' business, thereby costing the Treasury further revenue.
"They get special privileges that other persons don't get," the Comptroller added of GBPA licensees. "We find with Freeport, and we're not sure why, that there's always these things cropping up where people try and get around certain things.
"The bond facility is something most people try to get a foot in. If the Port licences you to do business, and we have no record of you setting up a business, why are you getting bonded privileges?"
He quickly added: "We're not trying to keep anybody out of any rights. If you have that right, fine, but don't abuse it. We'd love for people, if they are eligible for concessions and they qualify, fine, but with every concession there are limitations.
"We find, even here in New Providence, there are a number of concessions different entities get, and that on a continual basis people abuse them. Once informed of them, we have to step in and address it."
But, Mr Smith argued, checking whether GBPA licensees were using bonded vehicles for school runs or non-business functions was a step too far.
"The new Gestapo tactics by Customs, with spying on people at grocery stores, at schools or other public places to investigate the use of bonded vehicles is yet another tightening of the reins and inappropriate interpretation of the Hawksbill Creek Agreement," the Callender's & Co partner charged.
"This new practice by Customs of hounding people who are apparently using their vehicles other than for their business is constipating and squeezing Freeport, and the philosophy of an open, flexible, marketable, free-zone area. It's a huge inconvenience."
He implied that since Freeport was both a business and residential community, GBPA licensees were bound to use bonded vehicles for both company and non-company purposes.
"Most bonded vehicles are used for business and private purposes," Mr Smith said. "The fact a bonded vehicle is being used for private, non-specific business purposes doesn't mean the vehicle is not being used for business purposes."
Hinting that Customs needed to adopt a more 'common sense' approach to prevent it from strangling commerce in Freeport, Mr Smith sought to dispel several misconceptions he said still surrounded the 'bond'.
For starters, he said there was "no such thing" as a bonded area under the Hawksbill Creek Agreement. This, Mr Smith added, had been accepted by Customs in the UNEXSO case that he won, and GBPA licensees were able to use bonded vehicles in the conduct of their business outside the Port area.
And Mr Smith said that once brought in to Freeport 'bonded' or duty-free, vehicles - like other equipment brought in for use in a licensee's business - remained "duty exempt forever.
"Once imported for use in my business and used accordingly, it is forever non-dutiable. It doesn't suddenly attract duty at a later date," he added. As a result, it was "illegal" for Customs to assess duty if the vehicle was sold, destroyed or used for another purpose.
Mr Smith said uncertainty over this had often caused Freeport-based companies to eschew passing outdated equipment on to schools, charities and other civic organisations, as Customs would inevitably hit them with duty demands.
Apart from the 30 GBPA licensees who had complained to himself, Mr Smith said others had called the GBPA on the issue. "This is another example of trying to break the Hawksbill Creek Agreement," he told Tribune Business.
"Instead of investing and breathing flexibility, openness and ease of doing business, Customs and other government agencies continue to control business in Freeport.
"Pursuing licensees for payment of duty on their various vehicles will result in such a small amount of Customs duty that it is not worth irritating, upsetting and causing anxiety to the entire licensee business community," Mr Smith added.
"Collecting perhaps $100,000 in duty on these bonded vehicles in 2011 pales into insignificance when one recalls that Customs collects over $100 million a year in Freeport's 'tax-free zone'.
"Why create such consternation in a business community that is laying so many golden eggs for the Public Treasury? It is just stupid, and contrary to good business, and I urge Customs to stop irritating the licensees of Freeport, especially in a recessionary economy."