By NEIL HARTNELL
Tribune Business Editor
BAHAMIAN credit unions have outpaced commercial banks through an average total asset growth rate of 9.25 per cent over the past five years, the Central Bank's governor said yesterday, their collective membership having increased by 29 per cent over the same period to now account for one-fifth of this nation's workforce.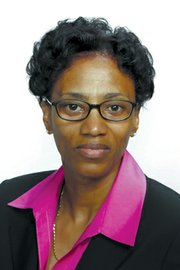 Wendy Craigg told Tribune Business that the two-year project designed to bring all Bahamian credit unions - and their 38,000 members - under the Central Bank's regulatory ambit, and ensure they were operating according to "international best practices", would tackle issues such as deposit insurance and enhanced corporate governance.
Confirming that another goal was to develop a draft Act to regulate Bahamian credit unions, Mrs Craigg said the reforms would effectively 'kill two birds with one stone', eliminating regulatory regime differences while also "dovetailing" with the Government's plans for financial services regulatory consolidation.
Describing the project as "very important", Mrs Craigg said it would also focus on "the institutional strengthening" of the 10 credit unions currently supervised by the Department of Cooperative Development at the Ministry of Agriculture, bringing them into line with international management standards.
The Central Bank governor indicated that the sector's rapid growth, and the fact it covered some 20 per cent of the Bahamian workforce, made enhancing regulatory oversight imperative, its average annual growth between 2005-2010 having exceeded its banking sector counterpart by some 1.33 percentage points.
With total credit union assets standing at $250.1 million at end-December 2010, Mrs Craigg told Tribune Business: "Growth in assets of the credit unions over last five years, of 9.25 per cent, compares favourably with the 7.92 per cent for commercial banks.
"As an indicator of the credit union movement's social impact, membership has grown by more than 29 per cent over the recent five years to approximately 38,000 at end-2010, to represent some 20 per cent of the total labour force.
And the Central Bank governor added: "There have been some important success stories among entities in the sector. The largest credit union, which accounts for approximately 52.6 per cent of total assets and with nearly $80 million in loans, is now nearly one-half the size of the smallest commercial bank."
Given that Bahamian credit unions were largely involved in the same business as commercial banks, namely the extension and intermediation of credit, Mrs Craigg indicated it was a natural move to bring them under the Central Bank's oversight.
Acknowledging that bodies such as the International Monetary Fund (IMF) had been calling for such a move for some years, she told Tribune Business: "This has been under consideration for many years. There have always been comments from the international agencies that there is a difference in the supervisory regime in place for these entities that are basically providing credit.
"It is not that there are what you would describe as significant issues from a regulatory standpoint, but we need to upgrade the regulations and ensure whatever credit unions do is consistent with international best practices, particularly in the area of corporate governance. We see this as an opportunity to effect changes."
Mrs Craigg said the two-year project, targeted to be complete by September 2013, would likely involve the transfer of existing regulatory staff from the Department of Cooperative Development to the Central Bank.
They would be placed within the Bank Supervision Department's unit that dealt with so-called 'domestic entities', commercial banks and money transmission providers, which will also ultimately oversee credit unions.
"We are looking to streamline the reporting requirements, so what we have in place for banks can be used by the credit unions," Mrs Craigg told Tribune Business. She emphasised, though, that these would not be automatically imposed upon the credit unions, with the Central Bank reviewing them to "ensure they are appropriate".
"It's quite sizeable, and certainly the outlook is for further growth," the Central Bank governor said of the credit union industry.
"What we want to do is provide a framework for growth into the future, with regulation and supervision underpinning that to give confidence to the stakeholders that they are well supervised.
"This is very important to us. We had it as part of our five-year strategic plan. We're into our third year now, so we envisioned this taking place within that period."
Mrs Craigg identified as "key issues" deposit insurance, the role of the League, and how any legislative changes would be made.
"We are going to produce a new draft Act for credit unions, so we have to ensure whatever provisions are included are in line with how these entities operate," she told Tribune Business.
"The institutional strengthening aspect of this project is something we really want to emphasise. It's where the consultant will devote resources to training Board members and credit union management to ensure they're well versed in the operations of credit unions. A considerable part of the project will focus on upgrading the capacity to manage credit unions."
The Central Bank has obtained, via the Commonwealth Secretariat, the services of a specialist consultant to oversee the project, and transition of credit unions to Central Bank regulation.
Mrs Craigg paid tribute to the Department of Cooperative Development for doing an "excellent job" in regulating the sector to-date, having enhanced their supervision and inspections.
The Department had also developed "draft regulations", yet to be enacted, that would "address some of the prior concerns" the likes of the IMF had.