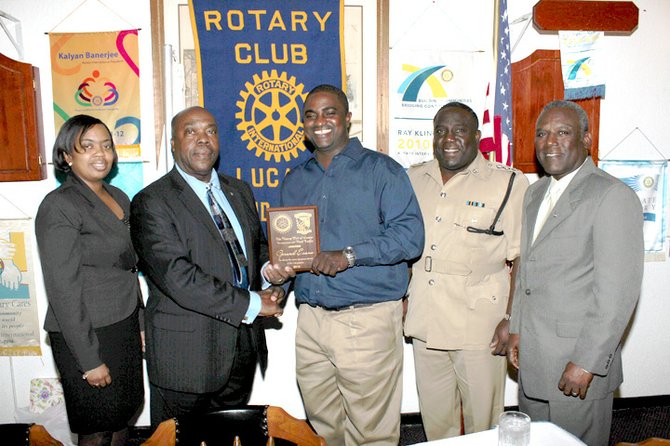 FREEPORT - A taxi driver was presented with the Most Courteous Driver Award for returning a valuable piece of equipment he found on the roadside.
Gerard Evans, a resident of Hawksbill, was recognised on Tuesday by members of the Rotary Club of Lucaya, the Road Traffic Department (RTD), the Grand Bahama Road Safety Committee and the Police Force.
Basil Rahming, deputy controller of RTD, commended the cab driver for his actions on December 6, 2011 while driving along East Sunrise Highway.
"As a result of his efforts and integrity, Mr Evans was nominated as the 'Most Courteous Driver of the Quarter - March 2012,'" he said.
According to reports, at about 10.30pm on Tuesday, December 6, 2011, Mary Delashmutt had just completed a teaching assignment at the Lucayan Presbyterian Kirk and was driving home with equipment worth several thousand dollars in a red suitcase on the back of her truck.
As she turned onto East Sunrise Highway, the suitcase slid off the truck and onto the roadside.
Several minutes later, another driver stopped Mrs Delashmutt and told her about the suitcase, but when she returned to the intersection, it was nowhere to be found.
She reported her loss to the police and began making inquiries, trying to locate her costly instructional equipment.
Unknown to Mrs Delashmutt, Mr Evans, of Abaco Drive, Hawksbill, had retrieved the red suitcase at around 11pm and began trying to locate the owner.
After contacting a security officer at the GB Trading Post, Mr Evans found out that the suitcase belonged to Mrs Delashmutt, who was later contacted and given her property.