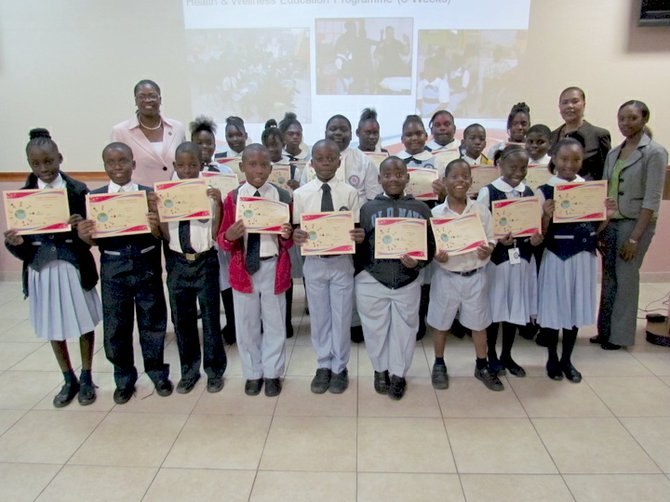 By ALESHA CADET
Tribune Features Reporter
INSIDE the standard lunch box of a Bahamian child you will likely find chips, cookies, soda and any number of processed foods.
Centreville Primary School Guidance Counselor Derelle Newbold was feeling overwhelmed by the proliferation of junk food, so she reached out to the Human Resources Department at Doctors Hospital to create a health and wellness programme for her school.
She believes the health initiative will help create a healthy generation.
Over the years, Ms Newbold's office has been inundated with students, struggling to manage medical problems, such as obesity, asthma and
even sickle cell.
On February 7, the school and hospital team launched "Health and Wellness", an eight week programme for primary school children, grades 4-6.
The hospital organised lectures and brought material to show the children healthy eating is possible. "Every week, we would have a healthy snack that they would distribute, which was good," said Ms Newbold.
Children learned how to choose healthy meal options, establish exercise and fitness routines and how to manage childhood diseases.
Doctors Hospital Physician Dr Nigel Johnson played his part by delivering a session on Diabetes and Asthma. He discussed the symptoms and ways to control the illness, once diagnosed.
"Through the program, we were also able to identify the kids who needed inhalers. We were able to target them in terms of medication, making sure they knew how to medicate themselves and that they actually have the medication as well," said Ms Newbold.
When asked about her most memorable presentation Ms Newbold spoke about a presentation by Dietary Service Coordinator Desarea Walkine.
"She talked to the kids about healthy eating. And in one particular session, she brought in the items and the kids were able to actually make their meals. She had everything from the lettuce, the vegetables, the meat and she explained what the purpose of each item was," said Ms Newbold.
After showing the students how to wrap and make sandwiches properly, Ms Newbold said they all realised that healthy eating can be tasty as well.
"I think these kids are now consciously making the decision to chose a healthy meal and make healthy choices. Whether it's water instead of a soda or a salad instead of fries, they now know the importance of it," said Ms Newbold.
Odette Carey, marketing assistant at Doctors Hospital said the program also gave students the opportunity to know about the career possibilities in the healthcare field.
"It will interesting to know what field these kids decide to study, somewhere down the road, ten years later or so, because I think they really took an interest in the programme. Aside from that, I think the kids learned a lot of precautionary methods. For example, the kids with asthma, they are going to be more wary of bring their inhalers to school," said Ms Carey.
Due to the excellent turn out, Ms Newbold said she can see herself being apart of the program next year and for years after.
"The important message is for the public as parents, to know that our kids have potential to be every bit as wonderful as they can possibly be. They have the abilities, but we have to push them. By introducing this program, I think it's awakening some of our parents and encouraging them to not let unhealthy food choices fly by," said Ms Newbold.